Best Online Casinos - Austria
Austrian gambling is heavily regulated for local companies. It is not illegal. But to offer games of chance to the locals, the websites have to comply with quite a few important requirements. You will also discover:
The list of casinos available online for Austria.
Best online casino games for Austria.
Possible promotions for slots and other types of games.
Recommendations on how to choose top-quality online operators for this country.
Further down the page, we will take a closer look at those requirements in order to understand why not many international brands can offer their services to Austrian gamblers, and why the industry does not develop and grow rapidly in this country.
Selected Filters:
Players from:
Austria

Allowed to register
Legal Status for Austrian Players and Casinos
Gambling in Austria is legal in accordance with the Gaming Act. This piece of legal writing does not require the local ISPs to block the gambling websites targeted at the reviewed country. However, it does regulate the way that virtual gambling is portrayed in the media. To be more specific, it prohibits any advertisement or promotions of such virtual venues.
The Glücksspielgesetz (the Austrian gambling act) dates to 1989, but it was amended several times. (one of the latest changes was introduced in 2020). It enables the federal government of all nine Austrian states to issue permits for slot machines and sports betting. Licensing of online casinos and lottery is held at the national level.
The Federal Ministry of Finance is the governmental institution that monitors the industry and decides on how and to whom to distribute the licenses. In accordance with the ruling of this Austrian gambling authority, among casinos and players, the ones to pay taxes are the online operators.
While this sounds as if Austria offered plenty of options to online gamblers, in fact, there is only one government-approved online casino in the country. It is Win2Day, which is partially owned by the state. The rest are private companies that are based in Austria and apply online for the gambling license. The list of options is not diverse.
Of course, this would not have been Austria if there were no tangled legal stories, exceptions, and hidden underwater stones. While many local companies can apply for the license and offer services online and via smartphones, they can only offer access to these services to those who are physically located in the country. Therefore, you won't see many Austria-based online operators dominating the European arena. This regulation also created many obstacles for many international brands to thrive in Austria. To do so, they have to be located in the country.
In this case, what choices do the Austrian gamblers have?
Well, there are plenty of gambling destinations that accept players from this country in accordance to two popular and secure licensed from the Malta Gaming Authority and the United Kingdom Gambling Commission. Alternatively, there are even more licensors maintained by the EU-based regulators. These are friendly to Austrian traffic, too. Our database has more than 600 online operators that welcome players from the reviewed country. Out of them, up to 300 will offer either local payment methods, convenient languages, or currencies.
How gambling started in Austria
You must be wondering why while many of Austria's European neighbors either go full-ballistics on the gambling industry or regulate it heavily, this country maintains leniency and opts-in for regulations rather than prohibition? Well, the answers are in the history. Gambling dates to the 17th century for Austria. Farmers loved spending time playing dice. By the 1700s, the first lottery, the Lotto di Genova, entered the country. Official land-based gambling venues appeared much later, in the 1930s.
Speaking of history. Many famous Austrians have been spotted gambling, including Mozart.
Name
Allowed
Casinos
Friendly
Casinos
Targeted
Casinos
Land-based
Online
operator
Online
player
ISP Blocks
Bank Blocks
Notes
Sources
Score
Austria
825
439
105
Legal
License required for all casinos
Administrative penalty
Not blocked
Not Restricted

Title: The Roadmap to Austria Gambling Sites ᐈ Is It Legal? Check with Our Review Description: Explore the legal basis for online gambling in Austria. See our take on regulations in the country and use recommendations for best online casinos for Austria.

Title: The Roadmap to Austria Gambling Sites ᐈ Is It Legal? Check with Our Review Description: Explore the legal basis for online gambling in Austria. See our take on regulations in the country and use recommendations for best online casinos for Austria.

-

"gambling is allowed solely in fixed locations and can not be conducted by digital means"

-

"§ 52nd (1) One commits an administrative offense and shall be punished by the Authority in the cases of para 1 with a fine of up to € 60 000 and in the cases of the Z 2 to 11 with up to EUR 22 000, 1. who organized the participation from within the country banned lotteries within the meaning of § 2 para 4, organized or makes entrepreneurial accessible or participated as a contractor within the meaning of § 2 para 2 it. 2. who without authorization of play professionally a game of chance covered by this federal law or instruments by which such will play transferred to the ownership or profit-sharing, or sold to other leaves; 3. who fails to comply with the conditions of approval of an approved game of chance; 4. who does not meet the requirements of § 5, or a gambling performs despite prohibition or after withdrawal of the game authorization; 5. who contravenes a provision in § 2 paragraph 3 of this Article Regulation, against the support obligation from game descriptions, the display obligation under § 4 6 or a toleration or obligation to cooperate under § 50 para 4...; 6. who participate in illegal lotteries within the meaning of § 2 para 4 - promotes or allows - in particular through the mediation of game participation, availability of other engaging articles as gaming machines or entrepreneurial circuit of Internet links;. 7. who holds technical aids (eg, a correspondingly suitable remote control.) ready, carries with it or uses that are appropriate to himself or others from gaining an unfair advantage in the game or to influence the game play; 8. who 6 and 7 or § 25a violated the obligations of the money laundering prevention in accordance with § 25 para. 9. who advertises illegal lotteries (§ 2 para. 4) in the country or whose application allows, unless it is an authorization of the Minister of Finance pursuant to § 56 para 2 before. 10. who knowingly player to the organizer or seller prohibited lotteries the assets power forward as a credit institution, when carried out in intentional direct interaction with the organizer or seller; 11. who accept gratuities directly in the conduct of lotteries."

-

"…in the case of Z1, a fine of up to 60,000 Euros and in cases Z2 to Z11 of up to 22,000 Euros will have to be paid"

-

The online gambling laws dictate that Austria-based companies are eligible for online gaming licences via the internet, mobile phones and interactive television, but only Austrian residents are allowed to use them. Foreign operators who hope for Austrian patrons will encounter discouraging bureaucratic and legal roadblocks such as a supervisory board and a registered, domestic office. Bet-at-Home was found guilty in 2011 of not respecting these laws because it operated in the country with a Maltese gaming licence, and the gambling website was promptly issued a "Hasta la vista, baby" verdict. The European Court of Justice recently ruled that Austria's state gambling control is essentially legal by EU law, despite numerous legal challenges from online betting companies attempting to break national monopolies. Casinos Austria, formed in 1967, is one of the largest casino operators in the world, with 40 land-based casinos in 16 countries, 8 shipboard casinos, 15 slot parlours, and one online gambling platform.

-

Gambling in all is manifold forms - card games, slot machines, sport bets, roulette and alike - is legal in Austria, but strictly regulated. This means that there are casinos that are run through a licensed company that is obliged to look after people who might be addicted to gambling. They are also required to set certain steps against gambling addiction and not admit people to the casino that are obviously spending too much. In theory, that is. In the past, several addicted gamblers have successfully sued Austrian casinos for not following these rules enough. Nevertheless, Austria is a gambling nation.

P

Penalty For Players

Intentional offences against the ban on participating in illegal online gambling will be fined up to EUR7,500 and negligent offences will be fined up to EUR1,500

725

Gambling Availability Score 725.
Ranked 118 of 531
Banking in Austria
When we are talking about the convenient currency, we mean Euros. This is the most popular currency across the European online gambling industry, and it is included in almost 80% of the websites, which is up to 500 online operators in our database. The second most popular option is USD.
Among some of the widely spread banking methods for Austrian online gambling, there is PayPal, Sofort, and Maestro, as well as the prepaid card Paysafecard. All these methods are legal and convenient. Except for the Paysafecard, the rest work well with both depositing and withdrawing.
To pay in Paysafecard, take a look at Lucky 247, Videoslots, and William Hill Online among more than 400 other options. For Sofort, head to Bet365, BoyleSports, or more than 200 other websites. In order to use Maestro, select among more than 200 online lobbies, including Casoo and BetVictor. Finally, if you are used to PayPal, it is available in bet-at-home, 10Bet, Aztec Riches, and more than 80 other online cashiers.
On average, it takes up to one business day to receive wins to e-wallets, and up to three workdays to cash out to the card or other popular method.
Standing on its own and worth mentioning separately is the EPS – the payment system designed specifically to meet the needs of users from the reviewed country. It is linked to more than twenty Austrian banks, which makes it particularly safe. In our database, more than 100 brands offer EPS, including Mr. Green, Karamba, and Europa.
Popular Austrian Games
Playtech leads the game in the Austrian market. For this gambling segment, the UK-based company became particularly successful in promotions via iPoker. Among other influential content suppliers appreciated by the local gambling community, there is Net Entertainment, Novomatic, Rabcat, Microgaming, and SoftSwiss.
If we are talking table games, then roulette, blackjack, and poker are particularly popular in the country. However, Austria does not make it into the top-5 countries that prefer table games over slots. If we're talking about slots, it's all of the latest trends in Megaways, Egypt adventures, Scandinavian stories, as well as all sorts of the bonus features.
Best Austrian Bonus Offer
For the best bonus offer from desktop devices, take a look at the selection of promotions over at 888 Tiger. This is a Rival-powered and internationally friendly gambling lobby that accepts digital cash.
There are three types of welcome bonuses here, each consisting of the cash match and free spins.
This match starts at 225% and reaches 300%. Overall, up to 2,000 credits of promotional cash can be released per account. The play-through terms are 30xBD.
The only types of content to contribute to wagering are slots and arcades, but these count 100%. Both bonuses and cash won from them are cashable.
Best Mobile Offer
By far, the best mobile bonus offer for Austria was put together by BitStarz. This is a platform highly rated by most of our players. Its welcome deals cover four initial deposits.
The range of the cash match is between 100% to 50%. Between 200 to 100 credits can be credited to accounts, and the wagering requirements are 40xB. Slot machines and arcades are the types of content to contribute 100%, while table games and video poker count for no more than 5%.
If the wagering requirements were completed on time, both the promotional cash and wins from it can be withdrawn.
Visit Mobile Website
New Online Casinos in Austria
Adjust the search filters to display some of the latest virtual venues offering online gambling for Austria. From our experience, up to thirty new lobbies are founded on a yearly basis in accordance with licensing from MGA, UKGC, and some local EU jurisdictions.
Austria latest news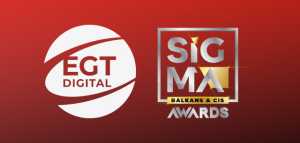 EGT, a popular Bulgarian software developer that has had a couple of fruitful years lately, has been recognized as the Slot Provider of the Year. This well-deserved award was obtained at SIGMA Awards Balkans 2023. The company is honored to receive this prestigious title and commits to further implementation of innovation in its products and plans to contribute to the development of the online gambling industry.
Now, when the summer is over, you still can feel that adventurous spirit and create a little vacation for several days. The five online slots offer you ventures for any taste and with a wide range of bonuses. Just pick which of those is your cup of tea. Is that a hike with boomers, the hunt in the Siberian forests, a space trip, a visit to the spooky crypt, or the excursion to the money factory? Do not worry if you cannot decide just yet, as we will take a closer look at each slot to see what it has to offer to thrill-seekers!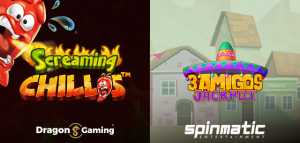 #GameRelease #GambleLike_LatinAmerica
A bit of elevating and energizing Mexican vibes will be just in time to meet autumn and let summer hold for a few days more. Dragon Gaming and Spinmatic both launch Mexican-themed online slots at the end of August. However, one focuses on hot chilies and generous jackpots they can create, while the other one invites you to feel the incredible atmosphere of the street fiestas created by three mariachis. Regardless of the selected game, satisfying rewards and elevated mood await you on the reels!