The Netherlands: Up to EUR 175K Losses in Taxes No More
KTC Analyses Changes That the Dutch Gambling Market Faces Under New Laws
In January of 2019 the Dutch Senate finally passed the Remote Gaming Act. A piece of legislation that has been in limbo for at least two years prior to this decision carries with itself some significant changes to the Dutch online gambling market. KeyToCasino got a hold of data and prognosis as to the future of online operators and players in the area, and is ready to weigh in on a matter.
Increased exposure to a rapidly growing online gambling market brings in itself numerous opportunities for local and international businesses, as well as thousands of work places. According to reports from H2GC , in the year 2018 alone the industry generated around EUR 26bn worth of revenue in Europe.
Note: The power of online betting swept away and bent even some of the most conservative pieces of legislation, like USA PASPA. Read our exclusive research on major changes that US Online Sportsbook faces.
Many were concerned, however, that the evolution of online wagering delivered a greater risk of problem gambling. The United Kingdom was among the first few countries to adjust to the digital era and to tighten the regulations in the British gambling segment by forcing a series of restrictions on the industry's advertising, bonus rules and wagering terms and conditions among other alterations.
It did not take long for many other countries to follow, including Scandinavia – a region that contributes majorly to online gaming. According to official H2GC data, Sweden, Denmark and Norway are in the first 15 of world's most gambling 30 nations, and these three already passed laws that will regulate digital gaming locally. The Netherlands places 22nd in the countdown, and speaking of the Dutch market, for the longest period of time the Netherlands seemed to stoically ignore the changes that other countries responded to, becoming a more and more controversial region in the eyes of the European Gaming and Betting Association (EGBA).
What Was the Game Changer for the Netherlands?
Up until 2019 the Netherlands was one of three countries in the European Union to provide a relatively free field for online gambling. Members of EGBA would argue that such lenience was leading to criminalization of almost 2 million gamers in the unregulated area, who were passively encouraged to play at unauthorized gambling destinations. What is more, a lack of regulations would deprive them of the choice of quality content and services – a reality of regulated competition and natural selection of any other market. This also led to the state losing more than EUR 175 in tax revenues on the yearly basis.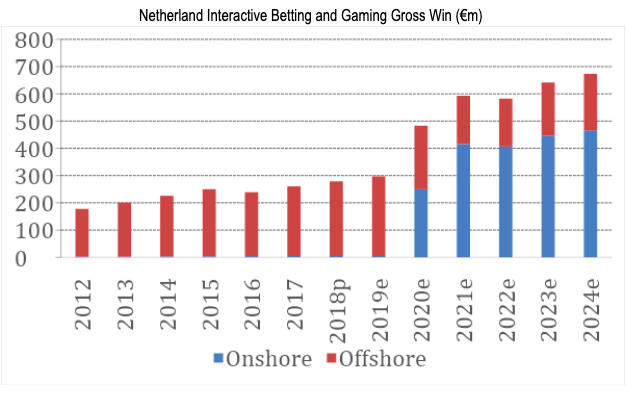 Netherland Interactive Betting and Gaming Gross Win (€m)
It seemed like the conflict reached the boiling point in the end of 2018, when one of the biggest game providers, Betsson AB appealed a fine of EUR 300k, which its subsidiary received from the KSA. Representatives of Kansspelautoriteit accused the company of illegally catering to thousands of players in the Dutch area with its Kroon and Oranje brands – two platforms certified under the Maltese laws. The company bought these two Dutch-audience targeted locations a cost of EUR 40 million four years prior to the legal dispute.
"…the conflict reached the boiling point in the end of 2018, when one of the biggest game providers, Betsson AB appealed a fine of EUR 300k, which it received from the KSA".
Betsson argued that there were no particular gambling laws in the Netherlands to comply with, so it followed the book of available and applicable laws in the industry. Weighing in on the other side of the issue, state-licensed businesses like Holland Casino were demanding the country to adopt a unified form of certification to ensure fair competition. According to the statistics, by the end of 2018 the number of people illegally gaming in the country rose by 20% - this is a solid share of the cash pie that both the Dutch treasury and local business would miss out on due to loopholes in legislation. By this time, it was already obvious that the issue of the unregulated market cannot be ignored.
In January, the Senate finally voted to put in place a Remote Gambling Act – a bill that was first introduced back in 2014 and passed by the House of Representatives in 2016, and since then remained in limbo.
Should it help Betsson AB in its appeal is yet to be seen, but the company already closed and rebranded its popular-turned-notorious places to bet and win. As of recently, visitors of Kroon and Oranje domains are being redirected to Casino Winner and Loyal. As to the lawmakers, they already held two spring sessions shaping the changes. It is expected that the licenses under a new act will be disbursed from mid-2020.
Dutch Remote Gambling Act: What to Expect?
Among changes that Dutch-licensed online operators are now facing is a 29.1% tax on gross revenue. There will also be a so-called two-year cool-off period for non-regulated brands who were knowingly targeting the Dutch market without a license, and this probably means more troubles to the Betsson's subsidiary, as well as for some other major companies.
Online poker and casino games, as well as fixed odds on sports are allowed under a new piece of legislation. A company that applies for the Dutch license does not need to have physical presence in the Netherlands, but it should employ a local representative that specializes in preventing addictions. Different sources suggest that a license might cost a gaming business around EUR 40,000.
KSA looks forward to new and high-level player protection supported by each website. Users will be entitled to private profiles and constant monitoring of behaviors. There will also be a database of gamers who got excluded due to showing addictions. Currently, H2GC sums up, an average adult in the Netherlands spends around 194 Euros per year on gambling, and the country places 30th in service's Top 30 Countdown for major nation's average spend per adult in 2018.
But where it gets truly interesting is regarding service's predictions about the future of offshore gaming business targeted at the Netherlands. Its earnings that are currently estimated at around EUR 307 mln, will drop to EUR 261 million by 2020. Respectively, popularity of onshore casinos will grow from today's 22% of the overall share of interactive gambling among Dutch players to 59.5% in 2020.