Australia Tops The List of 5 Most Gambling Nations
(But Who Are the Remaining 4?)
The value of the online gambling industry across the world is growing at an impressively fast pace. Gross win across the international market is around USD 56 billion, of which only slightly more than half is revenue generated by the white, legal sector. What is more, it is to surpass USD 120 bn by 2016, experts predict.
Based on these numbers, the team of KTC could not help but wonder - which are the top 5 nations to contribute the most to the boost of the online gaming industry?
Australia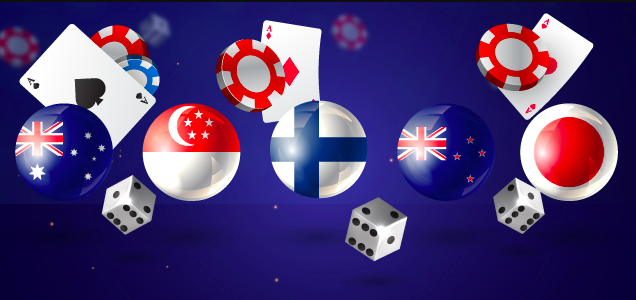 For many years in a row, Australia has been leading the charts as the biggest spender when it comes to online gaming, H2GC reports. In a country with an adult population of over 19 million, an adult spends on average USD 936 on online gaming on a yearly basis. As far as the prognosis goes, not much will change for this country within the next several years, and Australia will maintain its leadership position.
Now, what do the Australians like the most about the virtual casino industry? In 2019, more than USD 630 million was spent on this sector of online entertainment. Voting with the dollar, players gave the first place to table games and slots, investing around USD 502 million into this cohort. The rest, USD 99.1 million and USD 29.3 million was spent on bingo and poker, respectively.
It is worth mentioning that officially, online gambling is banned in this country as of 2011, our research shows. This means that the country loses potential revenue in the millions of dollars range to offshore operators because there is no penalty for Australians to play elsewhere. The internet providers do not block out-of-state gaming websites.
Singapore
Yes, a country with a population four times smaller than that of Australia, finishes second in the list of top 5 gambling nations. An average adult Singaporean spends around USD 697 on online gaming per year.
With its in-country virtual gambling being heavily regulated, the residents retreat to offshore online operators, and the industry shows no signs of slowing down. On the contrary, it grows roughly by 8% every year. We checked with the state legislation regarding virtual gambling - the Remote Gambling Bill of 2014 prohibits all forms of online betting except bets placed on sports.
That being said, more than 50% of the population in Singapore admits to gambling throughout the year. Players spent over USD 121 million on online games, and out of this sum, more than 70% was invested into slot machines and table games, with bingo and poker splitting the remaining into almost equal parts.
Finland
While Australia leads in terms of worldwide spending, Finland is definitely among European leaders. With a population of about 5 million, more than 41% of the country's residents are spotted gambling online on a weekly basis.
On average, an adult is willing to invest around USD 506 per year into the industry. Players from this country are way ahead of Singaporeans in terms of voting with their dollar for online casino games. This sector generated a USD 501 million gross win in 2019, with USD 267 million being spent on games, and USD 204 - on bingo.
The Finnish online gaming industry is also among those growing at a rapid pace. Partly this is due to the fact that it is not restricted as heavily, as in many other countries including the ones that made it into this list. According to our research, Veikkaus is the state monopolist when it comes to all things casino, and a lion's share of funds collected from players' loses goes to local budgets. Among some of the gambling destinations famous for their social work, there is PAF Casino. 100% of its revenue goes to address social problems of the area where it operates.
New Zealand
Officially the smallest country population-wise in this list, New Zealand with slightly less than 4 million adults, nevertheless, does not land the last spot in the countdown. On average, an adult here invests around USD 462 into online casino gaming, which amounts to over USD 80.7 worth of gross win for this sector.
Just as the rest of the participants on the list, New Zealanders tend to appreciate games the most, spending around USD 55 million per year of this cohort. Around USD 15 million is being invested into poker, and only USD 10 million - into bingo.
Japan
One of the biggest gaming trends of 2019 - pachislots comes from this country. And so does one of the biggest investments into the growth of the entire gaming industry. Japan's adult population exceeds 108 million, and on average, an adult spends around USD 445 on online gambling.
This sector raised around USD 368.4 million gross win in 2019, and out of them, USD 260.4 was generated by games. Poker comes second among Japanese gaming preferences, with this cohort generating around USD 79 million, while the rest comes from bingo.