Online vs Offline Gambling: Tendencies & Predictions
KeyToCasino looks closely at online and land-based gambling, their growth over the years, and prospects for the future.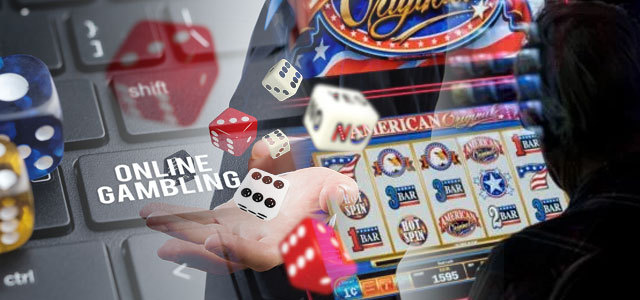 When it comes to technologies, they influence every sphere, making services faster and more accessible, and the customer experience more convenient. Online gambling has also been developed to meet the interests of Internet-oriented customers. However, the question about the share of interactive or online sites, in the total gambling sector is still open. Does it overtake land-based casinos? What is the potential of offline operators? What correlation between these two spheres will be in the future?
Despite the common belief that online gambling grows significantly every year and gains major influence, H2GC reports on the total gross win show that land-based gambling continues to lead and preserves a strong position in the market. In 2018, the total gross win for land-based gambling comprised $400,895m while interactive gaming $51,119m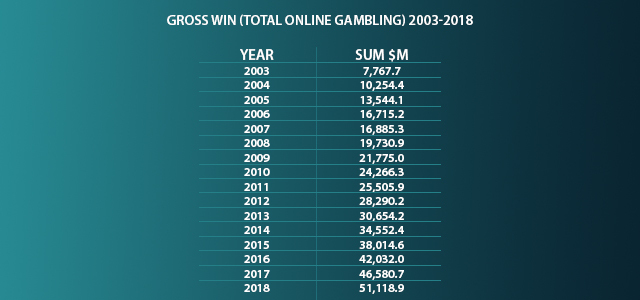 Nonetheless, the chart above shows the consistent growth of gross win in online gambling on its own and in relation to the land-based figures. Thus, once interactive betting options appeared in 2003, they comprised only 2,9% of the total amount. It has increased by 8.4% during the next 16 years. It means that land-based casinos year after year loses a certain share of the market to online options.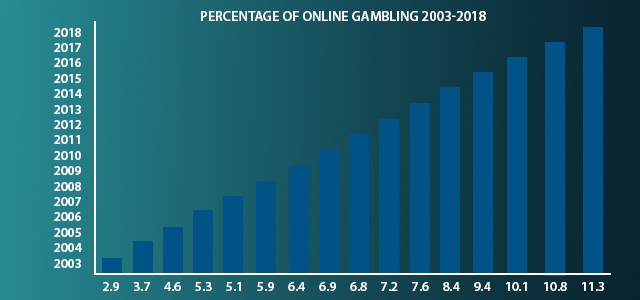 Odd One Out
We have explored the tendency on the global market. However, what is the correlation between offline and online environments within individual continents? The answer is obvious: they follow the trend and show the growth of interactive gaming and a decrease of the land-based one. Africa, Oceania, Latin America show the increase that is similar to the global one.
Surprisingly, North America stands out from the general tendency. Even though most innovations and technological breakthroughs come from the United States, the growth of gross win from online gambling is insignificant: it was 2.9% in 2003, and it became 4.3% in 2018.
One of the possible reasons for that is that gambling is prohibited in most states. Thus, when you come to Atlantic City or New Jersey, it is far more engaging to visit land-based casino than play online.
Christian Stuart, SVP & Chief of Staff at Caesars Entertainment stated:"In Las Vegas and Atlantic City, where online gaming is legal, that particular segment of the market is certainly growing – but it is not to the detriment of the traditional land-based casino operators. The explanation is a simple one: If customers enjoy the thrill of gaming online, then they are likely to enjoy the thrill in a bricks-and-mortar environment. The latter has an additional advantage of providing a social context, and this is not to be underestimated." (Source: Aethos Consulting Group)
European operators, on the contrary, have quickly adapted to the needs and preferences of players and started to launch online versions of their casinos. These actions led to the impressive percentage of interactive betting in the gross win amount. Thus, the share of online gambling in 2003 was only 2.1%, which is even lower than in North America. Nonetheless, it has increased to 23.1% by 2018.
Casey Cohen, Chief Marketing Officer at The Hippodrome, commented: "The European land-based operators are well ahead of the curve where online is concerned and have evaluated three options, which are: (1) operating their own online sites (thus creating an additional revenue stream); (2) partnering with a third-party online operator and utilizing online gaming to build data and drive brand exposure, possibly by way of a licensing agreement; or (3) not participate at all. At The Hippodrome, we have joined forces with Betway so as to not miss out on the digital opportunity. The partner strategy is one way for traditional land-based casinos to go digital and, in doing so, the operator creates 'through-the-line' marketing opportunities, allowing for more cost-efficient and measurable marketing opportunities in their marketing program." (Source: Aethos Consulting Group).
Future of Online and Offline Gambling: Main Tendencies
According to H2GC, the growth of interactive betting is inevitable, as it brings significant income not only to the owners but to a state as well. Thus, more and more countries will open regulated online gambling markets. New operators will continue to appear, as online gambling is cost-efficient and convenient.
Predictions from H2GC for the next five years confirm this tendency, showing the steady increase in the market share of online betting.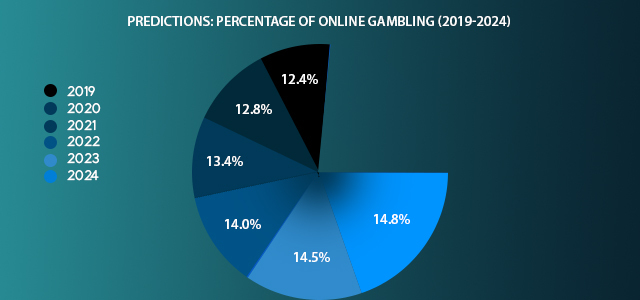 Another factor that guarantees the continued growth of the online gaming industry is the development of technology and its implementation for out-of-ordinary gambling experience. VR, gamification of slots, mobile casino platforms will make their impact on the expansion of interactive sphere.
Augmented reality is another innovation that encourages players to choose online sites over land-based ones. This technology allows you to play in a virtual environment with real people, meet live dealers and enjoy the 360-degree experience.
Betting is the most popular type of interactive gaming. It comprised $26,379m of total gross win from online gambling in 2018. Predictions for the next 6 years show that this sphere will continue to grow, and even more intensely than before. Thus, the expected increase by 2024 is 57%. At the same time, slots, poker, bingo, and other games will expand by 35.3%.
While online betting and gaming will continue to grow rapidly and reduce the share on land-based operators, online lotteries will not have a significant impact on the correlation between online and offline environments. They are expected to compose only 6.9% out of total gross win from lotteries in 2024, leaving this sphere to offline operators.