List of All Casinos
Choosing the right brand to gamble with online has never been easier with our convenient lists and rankings!
What makes it so simple?
We give you all the keys to opening the right doors to licensed casinos that cater to your specific needs…
and we know that there are matches to your requests because our database has reviews of hundreds of online operators!
Selected Filters:
Players from:
United States: Virginia

Allowed to register
In a Nutshell
Get started with our system automatically displaying the top-10 trusted online casinos for your country. This mini-list is based on the ranking, reputation, and positive responses from the community of players. Each of the suggested places to bet and win is briefly and efficiently summed up in a separate key box…
…in other words:
It will take you
less than two minutes to receive all the important facts
about rating, software, welcome promotions, payout speed, game variety including availability of the live dealer, ways to contact the help desk representatives, accreditation, and the overall visitors' experience. It is that simple!
Each of the boxes also allows you to head directly to the website by clicking Visit
or
Claim buttons, or to explore briefly summed pros and cons or a more detailed review.
For a more customized search, scroll down to discover four additional useful keys to our ranking system. These will give you everything you need to get started.
Finding the Right Casino: Here's How It Works
The easiest way is to use the search field. All that it takes is to type in a name of the brand that you are curious about, and to see the results.
Though our portal is home to hundreds of gambling destinations, there can be times when the search leads to nothing. Here are some reasons why it might be so, and how to fix the issue:
You misspelled the title. As obvious as it may sound, this is one of the most common mistakes. For instance, many are looking for Vera and John instead of Vera&John. If the search comes empty, or you are not sure in spelling, try inserting partial title. For instance, "Vera".
Some of the titles may not be included into our collection. Try looking by the owner's name to see the alternatives or use our filters to find a decent replacement based on country, currency, software and other preferences.

The operator you are looking for has restrictions for your country. If it is the case, find the "Not Restricted at All" filter and apply it to search.
Quick Tip for KTC Enthusiasts: You can add any operator to the list of favorites by tapping on the heart
. To use this option, you need to be our registered member. Becoming one is a simple procedure that takes less than five minutes. Simply find the sign-up button

at the upper corner of the page and use all the advantages of the free membership!
When we were putting together the ranking algorithms, we made sure that the key boxes with brief summaries provided all the vital information. Among others, you will be able to see the owner/managing company of each brand, which is displayed in the upper right corner of each box and is marked this way:

. You can even check, which other locations this company manages.
You will also be able to receive a more vivid explanation of each of the icons within the box by simply pointing the cursor at it. Here is, for instance, what we mean when we say that a platform supports very fast pay: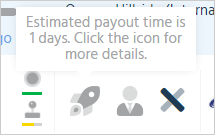 We make these conclusions based on the data analysis from many gambling portals and online forums by summing up responses from players.
Four Useful Keys
If you need answers to more specific questions, e.g.:
Which online operators accept players from the United Stated?
Which platforms support no-deposit bonuses for Europe?

Where can I play in Bitcoins and other digital currencies?
…you can use the extensive filters located on the left from the list of recommended gambling destinations.
Key #1: Filter by Content
Narrow the search down to all libraries hosting
games by a specific software developer
Simply pick one of the software developer

.
If you prefer specific game cohorts, such as slot machines, table play, video poker, or even want to go into greater detail by selecting lobbies with certain variations of, let's say, table pokers

, you can do that, as well. Content filtering also allows to spot libraries with progressive releases or the live dealer.
All applied filters are then displayed above the list of recommended locations

, but you can easily roll one or two steps back, or even to the default settings by pressing on X next to every applied filter.
Key #2: Filter by Promotions
Depending on the jurisdiction you are playing from, it is not always easy to spot the preferred bonuses. While welcome propositions may be a common offer, such promotions as
no-deposit bonuses or other deals
,including the generous ones, can be tricky to find. Well, simply mark them in among the filters.

The system will then deliver you the results for the country you are playing from.
Among some of such propositions there are even special promotions provided just for the readers of our portal! These are highlighted by a special blue ribbon.
Key #3: Filter by Personal Preferences
Several options allow to get into more in-depth requests, such as
preferred payment method or currency
To get into personal preferences even more, we added several special runners. These allow you to look for cashiers that pay within a specific amount of time by adjusting the runner leftwards or rightwards

, and to check out withdrawal limits the same way
.
Key #4: Feedback from the Community
There is nothing more helpful in deciding on where to register than to
get feedback from your community
. We spent quite a while collecting data from forums, and then supplied each review with responses from its registered users.
You can now check whether the brand you prefer has high ratings online, is favored by other experienced customers, is white- or black-listed on popular forums and is monitored by any of the special supervising authorities.

Finally, if some of your questions remained unanswered, switch from Main Filters to All Filters at the bottom of the bar

and type in a specific keyword

. It is also the section where you can browse websites by newest ones based on their launch dates.