Gambling Tendencies in the Baltics: Latvia, Lithuania, Estonia
GAMBLING IN LATVIA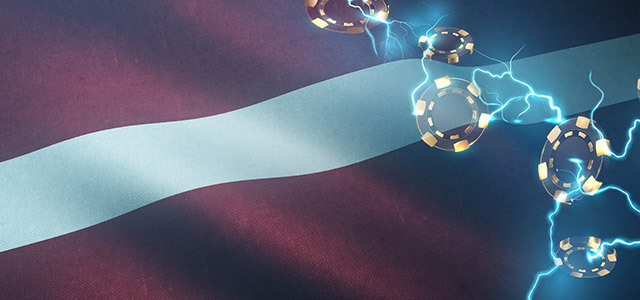 The first casino in Latvia was opened in 1991, soon after it became an independent state. However, online gambling was not regulated in the country until 2006 when The Gambling and Lotteries Law took effect.
Starting in 2019, Latvian players are not allowed to use illegal online operators and can register at licensed casinos only. Research from 2018 shows that legal online gambling and illegal one bring EUR 39 million and EUR 33.8 million respectively encouraging the authorities to restrict gambling at illegal sites. This addition to the gambling law in Latvia appeared to be timely, as the COVID pandemic stimulated that rapid increase in the popularity of online gambling. Currently, it is almost as popular as the land-based one. According to one of the latest UKGC reports, online betting and gambling accounted for 46.2% of total gross win in Latvia in the Q1 of 2023. It also predicts that the share of gross win from online gaming would continue to grow, and 2023 would finish with 48.3% of gross win generated by online gaming destinations.
In general, the rules and regulations of gaming in this country are mild and have many restrictions neither for operators nor for players. However, there are several activities that are prohibited, namely:
Betting on blood sports.
Playing at illegal online casinos. A monetary fine can be imposed on a player who decides to visit an unlicensed online operator.
However, the possibility of being fined does not stop players from opting for 'black market' casinos. Thus, Latvia is currently among the regulated markets with one of the biggest percentages of illegal casinos among all online gambling activities. As of November 2022, illegal casinos had 45% of the market share. The fact that Latvian players should pay a tax of 23% if their annual winnings from gambling exceed €3,000 does not encourage Latvian players to choose licensed and secure online operators.
What is the future of the Latvian market?
As for the competition between online and offline gambling, the former will continue to grow steadily and should overcome land-based gaming soon. Predictions for the Latvian market as a whole are also positive as the slow but steady increase in revenue will continue. According to the analysis of H2 Gambling Capital, the estimated gross win in 2026 will be €172 million (it was €109 million in 2021), which shows a decent 10% increase within five years. However, the current geopolitical situation on the continent, active military actions in Eastern Europe, and rising inflation can make some corrections to those growth predictions.
LITHUANIAN GAMBLING MARKET
Regulated by the 2001 Gaming Law and supervised by the Gaming Control Authority, the gambling industry in Lithuania is on the rise currently. It has experienced an impressive rise since Q1 2019 when the pandemic began, and its gross win currently is €69.5m (reported by Lithuania's Gaming Supervision Service in Q1 2023 for the onshore regulated market). As H2GC states in its report, it is 22.2% higher than in Q1 2022. Moreover, the increased percentage of the gross win since the beginning of the pandemic comprised 83.7% (even when we take into consideration inflation change for those four years, the percentage remains impressive – 33.6%). Thus, gambling has been flourishing in the country since the beginning of the pandemic, which makes one more essential change to the state of things in this industry.
Online gambling showed a dramatic increase. Thus, 62.5% of the total revenue in Q1 of 2023 comes from online betting. While it accounted for 31.8% of the revenue prior to the pandemic.
As the gambling industry is one its peak in Lithuania, let's look at what rules and restrictions companies and players face in this country:
All types of casino entertainment and sportsbook are legal in Lithuania. Virtual sports have not been categorized as gambling until recently, but it has been recognized as betting activities since 2020.
Until 2022, only those operators who have land-based casinos could apply for online gambling licenses. Now, companies that do not hold gambling destinations from brick-and-mortar can offer players their gambling services on the Internet.
Since 2021, there has been an advertising ban in the industry (so it was implemented even earlier than in Latvia). Thus, operators face strict advertising rules to make sure that their promotional materials do not face vulnerable categories (e.g., minors). However, many companies seem not to follow those strict requirements. Some of them were fined in 2023 (Baltic Bet and Top Sport are among them).
In 2016 the National Self-Exclusion Register was established, and it allows Lithuanian players who consider their gambling behavior harmful to exclude themselves from playing in all operators that are licensed in the country.
Predictions for the Future
Despite inflation and other economic factors, H2 Gambling Capital predicts a steady growth in the popularity of gambling in Lithuania, and the total gross win should continue its growth in upcoming quarters. The recent permit for casinos without land-based destinations in Lithuania to obtain gambling licenses will contribute to the rising popularity of online betting, so H2GC also expects that the share of online vs offline gambling in Lithuania will be 63% vs 27% by the end of the year.
ESTONIAN AS GAMBLING MARKET
Gambling in Estonia became legal and fully regulated in 2008 when the Gambling Act. This country sets an example of a successful gaming industry not only in the Baltics but in Europe as well. With an impressive surge of 260% from 2020, the casino revenue in 2022 was €281m as was reported by the Estonian Tax and Customs Board. Given the advanced technologies implemented in the country and the tech-focused society, online gambling is massively popular among players in Estonia, and its revenue will continue to grow.
As for the gambling laws in Estonia, they function in a way that a safe betting environment is created for all sides:
Taxation is currently only 5%, and this is one of the lowest percentages in the EU.
There is an advertising ban, implemented in 2008, which limits gambling promotions to the premises of gambling venues, on board of international ships/planes and in airports, and official operator websites. Promotional activities through emails and phones are also not restricted.
All types of casino games and sportsbook are legal in the country.
The Future of Estonian Gambling
According to the H2GC, the gaming in the company will continue to grow, but the share of online gaming will decrease slightly by the end of the year (from 64.4% to 62.3%), as land-based facilities continue to attract more and more visitors after the pandemic has come to an end.
H2 Gambling Capital also considers that the current and upcoming changes in the gambling law will not impact the industry in Estonia.
What are those changes?
One of them is the gradual increase in taxation which will see casinos pay 7% tax in 2026 and after. However, the percentage will remain relatively low even after the increase. Moreover, the government speaks about a possible implementation of the complete gambling ads ban.
Another direction in which the Estonian authorities will work is player protection. Thus, we might expect several new laws focused on a safer gambling environment. Just one of the most possible upcoming changes is the establishment of the national self-exclusion database.