Megaways™Slot Games - Thousands of Ways to Win
Slots are the darlings of this century, bringing untold rewards, huge excitement, and a tangible pace of play. As Slot developers compete to create the most innovative new features, ways to award prizes, or generally just dazzle players, you'll find a massive range of thrilling Slots and game concepts available online.
Today we're going to look at a Slots style that's pushing gameplay further than ever before; Megaways™ Slots - created by Big Time Gaming (BTG) and licensed out to other software providers on a per-game basis.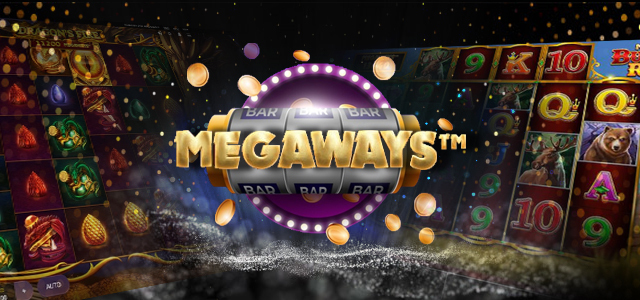 What are Megaways™ Slots?
Nowadays, we've become used to playing very flexible Slots. We expect the reels to change, paylines to adapt, cascade, rush or explode, bonus round galore, and to design our bets to the tune of perfect payouts.
We are spoiled for choice when it comes to Slots, and every day as we play more we create a greater incentive for developers to push those boundaries even further, embrace versatility, and continuously innovate- this is what makes Slots so darn exciting.
As the popularity of reel machines has grown, so have the number of paylines you can play, from fixed to flexible.
NetEnt, Yggdrasil Gaming, Microgaming, and several others - to name a few - have already given us great games and new, fresh functions. Every now and then one of these pulls off an "Elon Musk", launching a great idea and putting it to the test. Nobody would have anticipated what BTG delivered when they created Megaways™, which are Slots with hundreds of thousands of ways to win.
Every now and then one of these pulls off an "Elon Musk", launching a great idea and putting it to the test
Usually, when you spin a pokie there are a predetermined amount of ways that you can win, and to make a win you must match symbols on active bet lines- it is the bet lines that determine the win if the symbols fall on corresponding reel spaces. Some of the most played games today have 243 ways to win, consisting of 5 by 3 reels, and for many providers, this was as far as they'd got.
Megaways™ Slots throw the rule book of reel design out of the window and use a reel modifier to change the reel size and number of symbols in play on every single spin.
You'll only know the number or active Megaways™ when the reels come to a stop. Each Megaways™ reel can have literally as many symbol spaces as BTG wants to add, which equates to increased ways to win (this is the beauty of Megaways™, but for some reason- the game must be playable and understandable).
Big Time Gaming's Megaways™ is like the SpaceX of Elon Musk, giving players highly volatile games with the potential of stupendously sky-high wins
So far 2-7 symbols tend to be favored by Megaways™ base games with bonus rounds adding even more potential reel spaces, excitement, and prizes - impressive stuff, right?
How Do Megaways™ Slots Work?
Megaways™ Slots basically has any number of ways to win on a single spin and it is determined when the reels are in play. This is achieved with a reel modifier changing the reel sizes and the number of symbols per reel during the spin, thus every spin is unique and packs in way more excitement and thrills than an ordinary Video Slot.
When you look at the paytable of a Megaways™ Slot it can all look a bit complex, but we promise, once you've spun one you'll soon get the hang of having between 324-248,832 amazing ways to win in play and the more detailed game structure.
They tend to have 5 to 6 reels, with space for 7+ symbols on each, but this can adapt and change during gameplay, and depending on the features, special symbols or bonus rounds included in the game.
For example, White Rabbit. The base game reels and Free Spins are radically different. In the base game, the height of symbols is used to regulate the ways to win, whilst in Free Spins each reel can expand individually up to 12 symbols thus increasing the ways to win.
As each reel operates individually in Free Spins, each has a different number of symbols on it. The expanding reels of White Rabbit cause some epic... epic wins in Free Spins.
The number of Megaways™ in play and how they are regulated works differently for different games, for instance, Extra Chili. Here, you can buy the Free Spins feature drop at 50x your stake.
Looking to crank up the volatility to the max?
The beauty of this Megaways™ Slot lies in the ability to win awesome Free Spin rounds with huge multipliers, but also the fact you can gamble them all away. Take it for a spin- you won't regret it, but you need to be a high-risk Slots player to enjoy it to the max!
Who Wants to Be a Millionaire, for example, has an extra vertical reel that adds a symbol on every spin. So, you'll need to check the paytable of the Megaways™ Slot you choose to check the specific functions and rules of the game.
Kingmaker Megaways is a royal affair with stunning reels, 16,807 ways to win, FS, and gem multipliers. Don't miss your chance to spin a BTG Megaways™ new release!
Megaways is trademarked, meaning that anyone else wanting in on the fun needs a license to develop new titles with this mechanic. The following game providers have - or will have - a license to release Megaways Slots.
Blueprint Gaming.
You can find several games with Megaways mechanic created by Blueprint Gaming. For instance, Diamond Mine is the developer's first-ever Megaways slot and is basically their version of Bonanza Megaways.
Therefore, the setup of the game doesn't come as a surprise to most gamers - you get the usual 6 reels + one extra horizontal reel. On each spin, the symbols on the reels can vary from 2 to 7 symbols high which can give you up to 117,649-win ways when fully expanded.
Then, there is Buffalo Rising. It is a striking online slot, featuring excellent graphics and entertaining inbuilt features for you to experience. The pokie will drop you right into the middle of a mountainous region, with the sun beating down on your back as you watch out for the appearance of native animals. And speaking of those Megaways, with this in operation, you can expect to win in up to 117,649 different ways.
The first of the features in Buffalo Rising Megaways is seen from the moment that you start forming winning combinations. You see, every winning combination is part of a Reaction, which means that Cascading Symbols come into effect.
Red Tiger Gaming
In 2018 Red Tiger Gaming joined the growing list of rival developers to lease Big Time Gaming's MegaWays™ payline structure.
This payline structure allows for many thousands of paylines to appear on the reels at random on each spin, while at the same time keeping bets down to a minimum, Mystery Reels MegaWays is Red Tigers first slot to launch which features this system. It also includes the popular cascading reels.
Fantasma
Fantasma Games is a small Stockholm based studio that, according to information published on the official website, currently has 10 employees and a portfolio of 8 titles. Admittedly, it is a developer that has slipped under our radar and, if not for the Megaways license, it would likely have remained that way.
It's always exciting to see how developers make use of the Megaways game engine. So far, Blueprint has undoubtedly been the most successful, although Red Tiger, NextGen, and Relax Gaming all have shown great potential and will surely put up a fight.
Today, however, we'll take a look at how Fantasma Games has used the successful formula in its first Megaways offering entitled Flower Fortunes Megaways. It is all about making progress through the 5 different Game Levels indicated by the stalk which is positioned to the left of the reels. Leveling up also increases the betways - each new level will give you a 1 row increase up to a maximum of 9 rows.
If you reach the top level, you will be playing on a 6x9 reel set with potential for up to 531,411 Megaways with all features remaining activated as you progress.
iSoftbet
In April 2019, iSoftBet signed a deal with the Australian software provider, Big Time Gaming, and obtained its license to produce Megaways games. Like many rival providers, the agreement made with BTG allows iSoftBet to utilize the software developer's MegaWays gaming engine and incorporate it into their slots.
Aztec Gold Megaways can produce up to 117,649 paylines on any spin of the reels. Other than cascade wins, surprisingly, there is only one other main feature. It's a good one, however, and is called the Aztec Gold Cash Respin feature. It comes into play when 5 Sun Disc scatters land on the reels which unlock 3 respins. The original scatters are locked in place when they begin. Any further scatters that land is also locked and set the respins back to 3.
iSoftBet takes a conventional approach with their second application of Megaway in Majestic Megaways – the results being totally fine albeit a bit too safe from the provider.
You will either love the familiarity of the features or be irritated by how common they are. Starting with the full moon tile is the Mystery Symbol which was made famous by UK developer Blueprint Gaming. This lunar lit symbol can land anywhere and all in view transform into the same matching symbol from the paytable to increase the win rate.
Lastly, and depending on country and provider, iSoftBet has included a feature buy option called the Majestic Bet. Activating this guarantees at least 4 scatters will land on the next spin, fast-tracking players to the bonus round and that unlimited multiplier to a cost of 75 times your stake.
Why Are Megaways™ Slots Taking the Casino World by Storm?
Megaways™ Slots are highly popular, quite simply, because there is nothing else like them on the market. They are unparalleled in terms of ways to win and player excitement, except perhaps the feeling of taking down a multi-million-pound progressive jackpot.
Frankly, once you've played with those unpredictable reels, you won't want to go back to a generic Slot 25 line Slot ever.
They are high volatility slots, and the humongous number of ways to win combined with good payouts creating nail-biting play.
What's more…
...as they were created by BTG, you'll also find a Feature Drop function (which allows you to pay to instantly access the bonus rounds) paired with many BTG Megaways™ Slots meaning you don't need to spin based on luck and score scatters to access the bonus rounds, you can take a short cut and get to the best prizes quickly.
All in all…
...this is a killer combo from BTG and has permanently secured their place in Slots history, but also offers very high-risk stakes.