USA Enters Year 2019 as the Biggest Gambling Market
KtC investigates the outcomes of the country's boost in land-based and interactive gaming
The United States of America ranks first in the list of Top-30 Nations that contributed to gambling. The country ended the year 2018 with the gross win for the casino industry amounting to USD 107.99 billion, according to the global summary provided by the H2 Gambling Capital consultancy. Following America, but not even close to its overall yearly gross win, are China with USD 70.01 billion, and Japan with USD 48.41 billion.
The majority of this sum was contributed by money spent in the land-based venues, with the gross win amounting to USD 104.82 billion, while when it comes to interactive gaming, the United States loses their leading position. The country slides down to the fourth place with a total of USD 3.17 billion, allowing the UK with its USD 7.54 billion to lead the chart, and Japan and China taking second and third spots, respectively.
The majority of this sum was contributed by money spent in the land-based venues, with the gross win amounting to USD 104.82 billion, while when it comes to interactive gaming, the United States loses their leading position
The average American spent around USD 422 on gambling in 2018, and these numbers are to grow in 2019, experts at H2GC predict. A number of factors contributes to the country's thriving gambling market:
-The overthrow of PASPA in May of 2018 is one of them. From the moment the Court ruled it to be up to each state to determine whether to allow sports betting, analytics started to share forecasts for this segment to bring up to USD 3 billion in 2019, and USD 4.2 billion in 2020. Prior to the court's ruling, sports betting was for a long time fully legal only in Nevada, and partially – in Oregon, Delaware, and Montana.
-US online wagering, heavily regulated by the legislation and allowed only Nevada, New Jersey, and Delaware, also became available to residents and guests of Pennsylvania.
-Among other vital factors of increased spending on gambling is economic stability. According to the recent Bloomberg report, the household sector has provided an underpinning of steady growth for the US economy. In it, consumer spending grew 3.8%.
A detailed report on American Sportsbook operations is provided in a separate research, while in this one we take a closer look at the land-based and interactive market in general.
Land-Based Betting
While the country is divided between those welcoming the recent changes in gambling legislation and those concerned about the outbreak of addictions, the numbers speak for themselves. In 2018, commercial casinos had a great impact on the national economy.
According to the flagman report from AGA, in 2017 states received USD 9.23 billion in revenue from commercial gaming taxes alone, and 20 out of all states, in which commercial gambling is allowed, experienced strong microeconomic trends. Among others, the industry provided over 350,000 employees with jobs directly, which amounted to USD 17.42 billion earnings in salaries, bonuses and tips.
As to the gross win broken down state by state, predictably, leadership belongs to Nevada. This state's yearly report showed USD 12,088,600 million, with an adult spending on average over USD 5,062. Following it are the state of New York with its gross win reaching USD 6,756,800 million, and Florida, finishing the year at USD 5,791,000 million. The state to generate the least is Maine with its USD 253 million.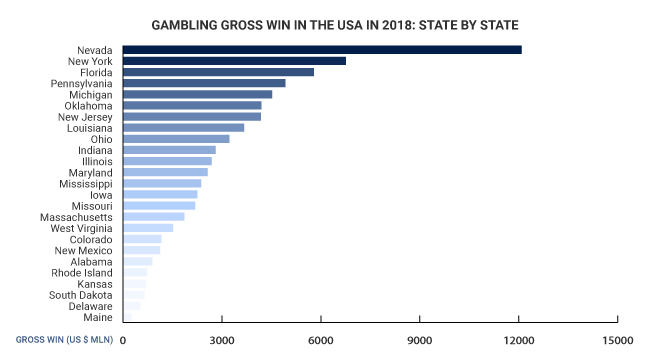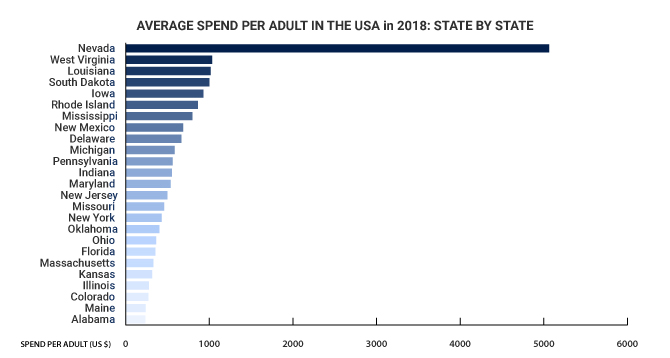 Interactive Gambling
Online wagering in the official statistical reports loses to the land-based one significantly, and does so for a very predictable reason. The Unlawful Gambling Enforcement Act of 2006 tied a tight knot around the development of the virtual operators. For a very long time, legally players could enjoy online betting only in Nevada, Delaware and New Jersey.
In the year 2018, Pennsylvania managed to squeeze into this tight circle. This immediately led to one more significant change for those in America who desperately wanted some diversification of virtual services. One of Europe's leaders of the software developing industry, Net Entertainment announced that it enters the new regulated market.
"This deal marks NetEnt's first customer signing for Pennsylvania and is an important step in our growth strategy in North America. I look forward to our collaboration with Penn National and believe that our entertaining online games will be much appreciated by players in Pennsylvania", said Erik Nyman, Managing Director NetEnt Americas LLC in studio's official press release.
This is not the only major software developer interested in the American market that seems to be ready to open its heavily regulated gaming environment for some changes and diversity. Thus, Peter Causley, Lightning Box Managing Director and Co-Founder, has recently shared plans for the studio's further expansion in his interview to our colleagues at LCB:
"The changes in U.S. gambling laws have opened up a number of interesting opportunities which we as a business are keen to explore further, most notably in an online casino. We have established ourselves in the U.S. via several deals in both the land-based and social casino industries and the games we produce for these markets continue to be well-received by players. As well as this, we'll soon be offering games to online players in New Jersey. This has provided us with valuable information, which coupled with what we have learned from our British and Scandinavian partners, should put us in a strong position to help out the other American online casino innovators as they step forward".
To be exact, when speaking about the online industry boost, the total interactive gross win of the American market reached USD 3,606.2 billion as opposed to USD 3,168.52 in the year 2017. But here's where the downsides of the UGEA kick in for the US economy. More than half of this amount, USD 2.28 billion comes from the offshore online operators, hundreds of which are functioning at the moment, ready to provide licensed services to the American gamers.
Normally, customers that are accepted at such websites, are limited to a small selection of software, mainly it is RealTime Gaming, Rival, WGS Technology, and BetSoft. Although, to be frank, US onshore interactive libraries are not boasting with diverse selection of software, either. Among frequent USA-friendly and licensed names that we usually come across in our database are Williams Interactive, IGT, and Next Generation Gaming.
What Are American Online Players Interested In?
In terms of virtual gaming, the last three months of the year 2018 indicate growth of visits to our portal from the US by 7% to 10%. KTC's statistics shows that not only the traffic from the American readers has increased. The visitors show a significant deal of interest in specifics of what the online industry can offer them as consumers.
Out of all gambling destinations that we've reviewed, about 19% are welcoming the US audience. The leadership in terms of visits belongs to libraries licensed by Costa Rica, or with content from BetSoft and RTG. The US gaming audience is cautious when it comes to exploring new names. Usually, an acquaintance starts with small deposits of USD 10 or less, after detailed research was done:
-Thus, 15% of all the research the players do prior to choosing a place to bet and win is checking the background of the brand's owners. Among some of our visitors' favorites are Virtual Casino Group and Jackpot Capital Group, as well as Lynton Limited.
-Up to 12% show significant interest in what games they can play. More than 85% of this traffic demonstrates clear popularity of slots, among which are Wolf Run or Panda Queen by IGT, while the second favorite game cohort is roulette and especially its rare variations, such as Alternative Roulette Types. Keno and Deal or No Deal also interest the US audience.
-Over 9% of those visiting our portal start their research from the selection of games in general, and almost a third of them proceed to investigating releases with high RTP.
-Up to 7% of readers' research is dedicated to the software providers. Here, leadership belongs to a young manufacturer of 3D slots Mobilots.
-Around 6% are keen on learning more about possible payment methods, and Dogecoin and Dash hold first places among digital currencies. As to the other banking options that may influence customers' decision to register are e-checks, Skrill and Neteller e-wallets, as well as Wire and Bank Transfer.
-Another 6% visit the portal to learn more about gambling laws around the world.
-Only 2.4% visit us to see more details about different bonuses, and less than 2% of the returned traffic is Americans interested in the industry's latest news and jackpot wins, such as the Exciting Winning Stories of Bovada Players.
-The majority, however, which is over 26%, prefers to proceed directly to the reviews of certain online operators, where they would examine bonus key terms and allowed games to wager on, as well as study the online reputation of the selected brands and available deposit methods. Thus far, Rockbet, Wild, Jackpot Wheel and CryptoSlots seem to meet majority of the demands on the gaming community.
Americans show a significant deal of interest in what the online industry can offer them as the consumers.
All things considered, while the offshore interactive industry is thriving today, it is perhaps the only segment of USA gambling with the poor prognosis for the following five years. Analytics at H2GC mention that while all other sectors, including land based and virtual gaming and Sportsbook are growing, so will the onshore virtual branch. Its gross wins will increase up to USD 4.40 billion, while the ones at offshore places to bet and win will drop down to USD 1.96 billion.