Japan is Betting High on Casinos for Economic Growth
KeytoCasino takes a closer look at the pros and cons of legalized offline gambling in Japan, considering the experiences of other Asian countries as well as the prospects in the future.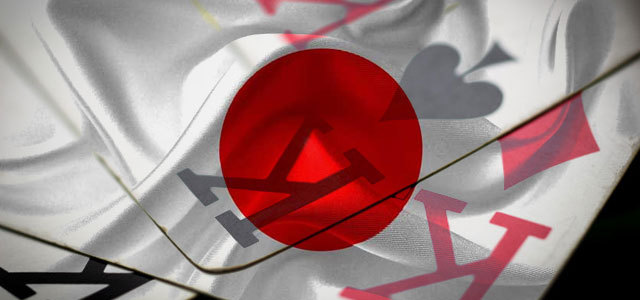 Foreign casino operators are salivating over the prospect of finally winning access to the world's third-biggest economy. They estimate that the Japanese casino market could be worth 1.75 trillion yen ($15.8 billion) a year when resorts are opened in three cities, surpassing Nevada's $11.1 billion.
Opponents have waged a decade-long campaign against legalizing casinos in a nation that already has 5 million addicts to pachinko, a form of vertical pinball slot machine.
ButPrime Minister Shinzo Abe has waved critics aside, his eye set on the tourism-boosting potential of so-called integrated resorts - developments featuring a casino along with hotels, other entertainment and conference facilities.
"Tourism is a pillar of Japan's growth strategy," the Japanese prime minister, who has been desperate to attract foreign investment to boost the economy, appealed to the Committee on Cabinet, the body to discuss the integrated resorts at the Diet, on June 1.
"Integrated resorts will create new employment and culture, bolstering Japan's international competitive power," Abe said.
It's Been a Painful Journey
Almost two decades were needed for a draft bill to reach the floor of the Diet for discussion since a parliamentary working group on the issue was first formed because of strong public opposition.
Polls conducted by major media systematically show that more than 60% of the population disagrees with legalizing casinos.
"Politics without the people's agreement will never succeed," said Tomoko Abe, a member of the opposition Constitutional Democratic Party of Japan
Tetsuya Shiokawa, a legislator from the Communist Party, denounced the prime minister's growth strategy, saying that "people do not accept money-making with casinos."
It is important to realize that the anti-casino lobby is worried about a potential increase in the number of people suffering from gambling addiction when casinos are legalized. The scale of the problem is highlighted by research showing that already up to 5 million Japanese are addicted to pachinko, which is not officially considered gambling since its machines do not pay cash prizes.
The prime minister's goal of using casino tourism as means to stimulate the slackened Japanese economy echoes with the ambitions of the world's gambling giants, which have been pushing for the opening of the Japanese market for more than a decade.
Possibly Endless Opportunities
Masaru Sugiyama, vice president of global investment research at Goldman Sachs Japan, estimates Japan's potential gross gaming revenue at 1.75 trillion yen, assuming the three regions of metropolitan Tokyo, Osaka and Hokkaido are chosen as sites. "Japan is one of the [world's] last three attractive regions, along with Brazil and India," said Rory Credland, event director for gaming at U.K.-based Clarion Events.
Japan's proximity to China and a recent sharp increase in the number of Chinese tourists mean casino operators also see the potential in drawing mainland Chinese customers to casino resorts in Japan.
While Japan's ruling coalition submitted the regulatory bill to parliament in Tokyo, executives from six global casino operators gathered in Osaka, one of the cities likely to be selected for a casino development. The six - Las Vegas Sands, MGM Resorts International, Caesars Entertainment, Galaxy Entertainment Group, Melco Resorts & Entertainment and Genting Singapore - were pitching to regional government officials and prospective partners for business.
"Our investment for an integrated resort in Osaka would certainly surpass Marina Bay Sands," said George Tanasijevich, the CEO of the Singaporean casino resort that is considered Asia's most successful to Nikkei. It is understood when Mr. Tanasijevich would consider Japan as an incredibly attractive market as Singapore has a very restricted regulations. Online gambling is completely banned there and the government have recently blocked many offshore gambling sites and it is now a criminal act to gamble on an unauthorized site. This law came into place when online betting increased in popularity and has now resulted in most operators leaving this marketplace.
Owned by the world's biggest casino operator, the Las Vegas Sands, the Marina Bay Sands was built with an investment of $5.6 billion in 2010, according to H2GC.
In 2017, it contributed to more than 30% of the company's $4.9 billion pre-tax earnings. Las Vegas Sands Chairman and CEO Sheldon Adelson announced last year that the "investment in Japan could be as much as $10 billion."
Other operators are equally enthusiastic, showcasing the uniqueness of their potential business in Japan.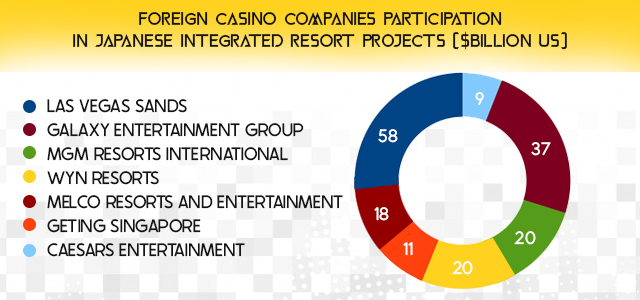 Visual 1. Foreign casino companies seeking to participate in Japanese integrated resort projects (in Billions of US Dollars).
Asia-Based Companies Also Showed Their Strong Interest
Lawrence Ho, Melco's CEO, recently told Nikkei that his company has divested most of its investment in a Russian casino resort to "clean" up its record for bidding in Japan.
Meanwhile, Galaxy recently hired Ted Chan, former chief operating officer of Melco, to head Galaxy's Tokyo-based Japan development team in its drive for a Japanese casino license.
Operators are making bids for the Japanese market a top priority
Genting Singapore, which owns Resorts World Sentosa in Singapore and is part of the Genting group of Malaysia, sold its share of a $1.8 billion South Korean casino project in 2017 to focus on a Japanese project.
Wider trends also bode well for Japan. Global casino revenues are returning to growth after the 2008 global financial crisis, and Chinese President Xi Jinping's anti-corruption campaign has cooled travel from the Chinese mainland to Macau.
According to Global Betting & Gaming Consultants, global casino revenues reached $122 billion in 2017, up 8.8% from the previous year. Revenues in Macau rose for the first time in four years in 2017, but they remain only at nearly 70% of their peak in 2013.
Las Vegas has been hit by the saturation of casino facilities and generates only one-third of the gambling revenue of Macau. Casino resorts in Japan could transform the global market.
Starting Slow
Operating licenses, initially, will only be given for three sites in the country. For locals, a 6,000-yen entry levy and a maximum of 10 visits per month will be set. The size of the casino will be limited to 3% or less of the total resort area, with a 30% gaming tax paid to the central and local governments.
According to Brendan Bussmann, partner and director of government affairs at Global Market Advisors, a gaming and hospitality consulting company, such conditions may impact gaming revenues heavily, because non-gaming facilities within an integrated resort are greatly supported by the casino and gaming revenue, in other words, the economic engine.
Despite the uncertainty, operators have highlighted their non-gaming content at their pitches, both in Osaka and Tokyo. For instance, projecting a family-friendly face, Steven Tight, president of international development at Caesars said that almost 60% of the total revenue in the Las Vegas model came from non-gaming content.
If the legislative process in Japan is completed, with final approval from the upper house by the end of the Diet session, the bidding process for local governments to invite businesses will start in mid-2019, followed by the approval of casino operators. The first integrated resort in Japan is expected to open in 2024.
With high expectations of Asia's big new market opening a door to casino gambling, operators are staking a great deal of money to fight over the three licenses that are to be granted. However, the long-term prospects for gambling in the Land of the Rising Sun remain unclear.
Will the numbers of Japanese customers and wealthy foreign tourists needed to justify the resorts materialize?
It might turn out that starting a business in Japan could be the biggest bet of all for the casino operators.