Top-5 Countries That Prefer Sportsbook to Other Types of Betting
Sports betting is a popular activity that involves result prediction of games, matches, races in different kinds of sports (horse racing, football, golf, basketball, hockey, track cycling just to name a few). This entertainment is popular across the world, but several countries prefer sportsbook to any other type of gambling. What are they?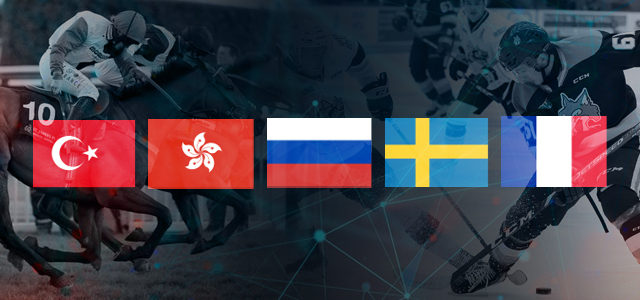 #5. SWEDEN
Even though the licensed gambling market in Sweden was created only in January 2019, players from this country were always interested in betting activities. Yet, Swedes preferred the lottery to other types of casino entertainment until 2016.
Starting from 2017, sports betting became the most engaging betting activity in Sweden. Its popularity has become even more obvious after the opening of the gambling market. Thus, the share of sportsbook in 2019 comprised 40.3% of the total gross win in the country. The prognosis of H2GC for the next five years show that the total gross win will increase by 20% and can comprise $1.3m.
It is not surprising considering the government wants to implement stricter rules for casino entertainment, while restrictions on sportsbook will be slightly milder. Thus, new proposals submitted to the Swedish government have suggested that horse racing and sports betting could be excluded from the previously suggested deposit limit of 5000 SEK (€500) per week (according to sbcnews.co.uk.
#4. TURKEY
Such a great interest in sports betting among the Turkish population can be explained by gambling regulations in the country. Thus, the state strictly forbids any gambling activities outside the state-run SportToto (sportsbook) and Milli Piyango (lottery). If players decide to play illegally, they may face a significant fine.
Such policy resulted in a gross win of $1.5m generated by the sportsbook in 2019. This figure comprised 80.5% of the total gross win last year.
#3. RUSSIA
In 2019, Russians became the third nation in the world that found sportsbook far more attractive than other types of gambling. Betting on football, hockey, boxing, and other types of sports generated $3.2m.
What is interesting, this type of betting has not always been that popular with players. A significant rise of the gross win occurred several years ago when it grew from $1.6m in 2017 to $2.6m in 2018. H2G´s predictions show that the popularity of sportsbook in Russia will continue to generate bigger gross win every year. Thus, betting on sports is to comprise 83% of the total gross win in five years (in 2019, it was 78.3%).
#2. HONG KONG
Hong Kong has a long tradition of gambling in general and sports betting in particular. This, as well as the fact that casino entertainment is illegal, contributes to the high popularity of sports betting in the country.
Being a Special Administrative Colony that belongs to China, Hong Kong has its own regulations for gambling. Thus, all bookmakers and casinos (both land-based and online ones) are illegal in the country. The only way to gamble is to go to the Hong Kong Jockey Club that has operated since 1884 and holds a license for horse racing, football betting, and Mark Six Lottery.
Taking this into consideration, it is not strange that Hong Kong is one of the leaders in sports betting with the total gross win of $4.4m (in 2019). What is more, the population of Hong Kong is one of several nations that prefer horse racing to other sports events.
What does the future hold for gambling in Hong Kong? Well, there would be no drastic changes, but sportsbook may increase its share in total gross win to 87%.
#1. FRANCE
France is surprisingly one of the leaders of the gambling industry if we speak about sports betting. Players from this country generated a gross win of $5.1m in 2019, which slightly less than the gross win from lotteries ($5.3m).
However, the predictions show that in five-year time, the sportsbook will be the most popular type of gambling in the country with a gross win of $6.7m, while lotteries are expected to generate $6.4m.
WHAT ABOUT ONLINE BETTING?
France, Hong Kong, and Russia are also on the list of top countries that choose sports betting over other types of entertainment when it comes to online gambling.
What is more, the United States is also in the top 5 countries that enjoy interactive betting the most. Thus, it generated a gross win of $1.8m in 2019, while gross win from online casino comprised $1.7m. The prevalence of sportsbook will get even bigger in five years, as spending is to increase by 19.5%.

On top of this list is Japan with the gross win of $7.6m in 2019, while casino games generated only $379,600 that year. This shows that players from Japan tend to play gaming machines at land-based operators, while sports betting is common both online and offline in the country.