Best Online Casinos - Peru
In the vibrant and evolving world of online gambling, Peru stands as a noteworthy market, with a burgeoning community of enthusiasts who seek the thrill of gaming from the comfort of their own homes. The online scene is huge, encompassing not only sites licensed by the local regulator but also 100s of international virtual platforms that may be suitable for players from the country in question. For those who wish to explore this dynamic and exhilarating realm, our publication will be an indispensable companion. This informative and invaluable guide is meticulously crafted to shed light on the online gambling regulations and gaming options in Peru, providing a clear understanding of the industry landscape. Here is a list of insights you will have after reading the publication:
Know what to expect from the market:Whether you are a seasoned player or a novice taking your first steps into the world of iGaming, you'll find our comprehensive overview of regulations and licensing procedures an essential resource.
Play at the best lobbiesThe heart of this publication delves into the best online casinos that cater to the Peruvian market, offering in-depth reviews and insights into their offerings.
Enjoy premium content:From traditional table games to the latest slot machines and live dealer experiences, we explore the full spectrum of content available, helping you choose the platforms that align with your preferences.
Get access to the perks:Moreover, we unveil the world of bonuses and promotions, guiding you through the maze of offers to ensure you maximize your gaming experience. From enticing welcome deals to ongoing promotions and loyalty programs, we'll ensure you're well-versed in optimizing your gaming budget.
This page aims to provide a roadmap for both new and experienced players, offering a gateway to the exhilarating world of browser-based and mobile-friendly platforms for Peru while ensuring that you play responsibly and within the boundaries of the law.
Selected Filters:
Players from:
Peru

Allowed to register
Legal Status for Peruvian Players and Casinos
Banking in Peru
Popular Peruvian Games
Peru latest news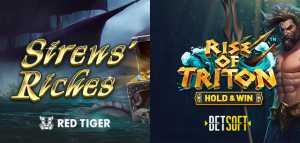 The vast deep water always attracts treasure-seekers, as it hides plenty of secrets and sunken ships with treasure chests and gold inside them. The recent releases by BetSoft and Red Tiger Gaming allow you to embark on such adventures and return home with a big fortune. However, beware of marine creatures as you dive deep, as they will try to prevent you from finding the riches. BetSoft opted for a powerful Triton as a treasure guardian, while Red Tiger Gaming composed a fascinating story with sirens and sailors being the main characters. Overview both games and select the voyage that speaks to your soul!
#GambleLike_LatinAmerica #GambleLike_Argentina #GambleLike_Peru #GambleLike_Chile
Latin America with over 670 million population, a sports betting culture, and a rising middle class appears to be the region with a big perspective for online gaming. However, this market has been noticed by online casinos and software developers just lately. While gambling in Europe has a long tradition with regulated markets that have been launched many years ago, authorities of some Latin American countries have legalized gambling several years ago. Since that time, the gambling industry in the region has shown steady growth with big potential for further prosperity.
Our research on iGaming in Latin America aims to represent the current state of things in gambling on the continent, highlight opportunities and challenges that companies and players face, and see what the future of gambling in LATAM could be.