Best Online Casinos - Ukraine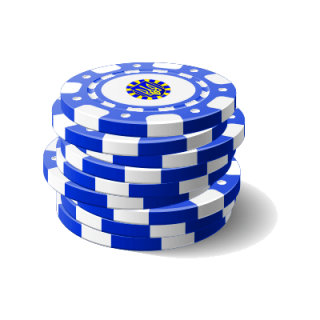 The online casino business in Ukraine has been on and off for the past several years. After declaring independence from the Soviet Union, the young democracy had a hard time finding the right strategies for offline, let alone online gambling. Legalized at first, and then banned, gambling became a grey area with a lot of discussions around it. Then, in 2020, offline and online casino businesses in Ukraine finally became legal. However, both sectors are regulated and have a lot of nuances to them. In this publication, we will be taking a closer look at the following questions:
Which online casinos are available to players from Ukraine?
What is the best way to make real money bets?
Which international brands already became legal to Ukrainian gamblers?
What are some of the newest online casinos to play at?
Our database has more than 450 online operators ready to welcome players from Ukraine. Most of them are Curacao-licensed, which is not a violation for Ukrainian players — they are allowed to register at international lobbies given the fact that in-country jurisdiction for online casinos is still in the making and there are no or very few locally licensed websites. Some of the online operators that are ready to welcome Ukrainians are localized — 19 have adaptations to Ukrainian, and 10 accept UAH. Another 100+ places to bet and win have a Russian language adaptation as an alternative.
Country latest news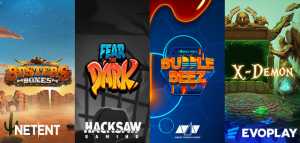 Popular software providers always find the creativity to produce exciting slot machines with original themes and innovative bonuses, so players can always enjoy something fresh and unique. This time, we offer you a chance to discover recent games by Evoplay, Net Entertainment, Hacksaw Gaming, and Crazy Tooth Studio and immerse yourself in fascinating adventures. Thus, you can experience the atmosphere of the Wild West, observe fussy bees, face scary monsters in the darkness, and visit the lair of the devil.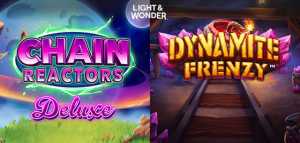 If you wonder if SG Interactive has disappeared from the world of gaming, as you have not seen new games from this studio for a while, do not worry about that. The company is still active and creates new engaging slots, but it has undergone a rebranding, so SG Interactive is Light & Wonder now, and we offer you a chance to discover its two latest releases, namely Chain Reactors Deluxe 96 and Dynamite Frenzy.
Embarking on a path in the gaming industry is always a thrilling adventure for a new software developer, but it also comes with its fair share of challenges. Not every studio can ascend to the summit and garner a large base of admirers among players. Yet, Lady Luck Games has proven to be a remarkable exception. Founded in 2019, the company has navigated its way to success, captivating players through vibrant designs, embedded creativity, and an innovative approach to game mechanics.
Selected Filters:
Players from:
Ukraine

Allowed to register
Legal Status for Ukrainian Players and Casinos
In 2020, the latest Ukraine casino news had fans of gambling rejoicing — the government finally legalized the industry. Despite the fact that the lawmakers limited gambling only to casinos in authorized hotels, it was still better than what the country dealt with in the years prior. Banned before 2020, gambling still existed in illegal casinos masked as kiosks.
The Gambling Act was signed into law on August 11th, 2020, and the Commission for the Regulation of Gambling and Lotteries became the legal body to moderate the industry. The law clearly defined basic regulations, as well as license fees and taxes. Immediately after the act was signed, several international gambling brands announced their intentions to pursue online gambling licenses for Ukraine. One of such online operators was Parimatch — a popular gambling brand among Ukrainians.
According to the new local regulations, casinos are limited to functioning only within hotels. An operator must have a Ukrainian license, which is quite costly. For online gaming lobbies, the license costs 1 million Euros and must be renewed every five years. Advertising casino services is allowed, and the legal age to access casino content is set to 21 years.
Games of chance were popular in Ukraine since the 1900s. Back then, the country's lands were part of the Russian Empire. By the 1930s, with the rise of the Communist Party, all betting houses were closed to "keep the workers focused on their jobs and duties". Racetracks remained the only legal place to wager cash on bets. Other than that, Ukrainians resorted to playing card games at home, in small circles of friends.
The first legal casino opened in Ukraine in the 1990s, briefly after the country got its independence. Since then, small, and big casinos have started popping around the country, predominantly in big cities. The industry was booming until 2009 when the government issued a ban on all forms of gambling. This led to the criminalization of the gambling sector and to casinos turning into secret spots where it was risky to gamble.
Immediately after gambling, including online casinos, was legalized in the year 2020, four companies applied and became the first to receive the licenses. These are Spacex LLC and its "Kosmolot" chain of casinos, as well as PariMatch, GameDev, and First Element companies.
Name
Allowed
Casinos
Friendly
Casinos
Targeted
Casinos
Land-based
Online
operator
Online
player
ISP Blocks
Bank Blocks
Notes
Sources
Score
Ukraine
530
136
10
Legal
License required for all casinos
No penalty
Not blocked
Not Restricted

illegal gambling halls are masking as lotteries saloon and presented in almost every city

illegal gambling halls are masking as lotteries saloon and presented in almost every city

-

The Gambling Law provides for 11 gambling licences, which can be united in the following groups: (1) Seven "primary" licences for: Land-based casinos (ordinary licence and special "investment licence"). Land-based slot machine halls – each licence allows the operation of up to 250 slot machines. Land-based and online betting. Land-based hippodrome pool betting – the licence permits the operation of one betting shop and the carrying out of pool betting on races taking place in such hippodrome. Online casino gambling. Online poker. A gambling business is defined as an activity associated with the organization, conduct, and provision of access to gambling in casinos, slot machines, computer simulators, bookmaker's offices, interactive establishments, and electronic (virtual) casinos, regardless of the location of the server. (Paragraph 1 chapter 2 of article 1 in law #3383-VI (3383-17) from 19.05.2011) Gambling is any game in which a prerequisite for participation is payment of money by a player, which allows a person to place bets in any form and receive prize winnings. The law does not provide definitions of "Internet establishment" and "computer simulator." (Chapter 1 of article 1 in law #3383-VI (3383-17) from 19.05.2011) Providing and participating at gambling business is banned in Ukraine (Article 2 – Prohibition of the gambling business in Ukraine)

682

Gambling Availability Score 682.
Ranked 129 of 526
Banking in Ukraine
By the time we were putting this publication together, the legalized gambling sector in Ukraine was still very new and flexible, with little to no locally licensed online gaming lobbies. So, we looked at 400+ international websites ready to welcome Ukrainians instead.
The local currency — Ukrainian hryvnia — is supported by less than 2% of online operators in our database. Instead, we recommend using USD or EUR — two of the most popular currencies available in more than 90% of websites on our portal.
As far as the payment methods go, Ukrainians know that popular e-wallets Neteller, Skrill, ecoPayz, and MuchBetter, as well as payment solutions like PayPal are not an option in their countries. So, they use Visa and MasterCard to manage deposits and withdrawals. Luckily, both cards do not have any bans from banks when it comes to gambling-related transactions.
If we are talking about Visa, there are 440+ online operators accepting it as well as ready to welcome Ukrainian traffic. The list includes, among others, FavBet and 1xBet. As for MasterCard, our database indicates its presence at 420+ places to bet and win, including Betway and Casoo.
Policy for taxing players and operators is still in the early stages of development. By the time we were ready to publish this article, local players in Ukraine did not have to pay taxes on wins.
Popular Ukrainian Games
Because Ukrainians are welcome at international lobbies, they are able to place bets on slots and table games from all the popular content creators. Top-3 for players from this country are studios like Net Entertainment, Microgaming, and Playtech.
What is more, the country is home to several successful slot developers, and they even managed to make their way to international lobbies and to gain authority among players from other European countries. These studios are Evoplay Entertainment, Ruby Play, NetGame, Gamzix, and ThunderSpin.
Game-wise, Ukrainians prefer slot machines to table games. There are even quite a few successful Ukraine-themed slots that players from the country thoroughly enjoy.
Best Ukrainian Bonus Offer
When it comes to the best bonus offers for Ukrainians, it is hard to beat PariMatch. This online casino offers a hefty welcome package with cash and spins on more than one initial deposit. The rollover requirements are manageable. What is more, players from Ukraine can test PariMatch with its no deposit welcome booster. Slot machines will be the type of content to contribute 100% to the playthrough terms.
Claim Your Bonus
Best Mobile Offer
For a great mobile bonus, we recommend Ukrainian players to check out FavBet with its generous welcome package. Plus, there are plenty of ongoing promotions, with boosters on sports bets, cashback, reloads, and tournaments.
Visit Mobile Website
New Online Casinos in Ukraine
With the new regulations in place, it will be a while before Ukraine-licensed online casinos start to appear on the market frequently. Meanwhile, we recommend checking international lobbies — there are always new locations available to players. To pick the one that suits your needs, set the search filters to Ukraine as an allowed country, and to the current year. Then, also, specify other parameters that you find important. such as preferred games, software, payment methods, and bonuses.