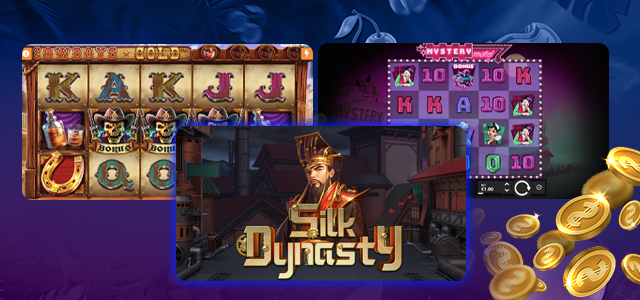 Moving Multipliers, Wins Up to 50,000x the Stake (and More) in 7 Story-Based Slots | What's New to Play at Casinos?
Inessa R
If you love a good story-based slot machine filled with adventures as much as we do, then definitely stick with us for the following 7 hot casino games to explore. They have all the best qualities: stunning visuals, engaging storylines, and charismatic characters. Plus, what is important, each of the games has at least one unique winning feature definitely worth testing out.
Are you a fan of massive random multipliers? Then join the squad of cowboys on the reels of the Cowboys Gold slot by Pragmatic Play. If you like stories from back in the pirate's era and would like to search for the treasure map, join the characters on the reels of the Queen of Bounty slot by Pocket Games Soft.
Spin the time machine and find yourself in the imperial China of the Silk Dynasty by Dreamtech Gaming. This stylish adventure comes with the original moving multipliers. Or hop into the fantasy capsule and land on the reels of 24 Dragons slot by Playtech, where thousands of win lines can be activated.
Not much of a fantasy slot fan? We've got a post-apocalyptic story for you, with potential wins reaching 4,050 coins and waiting for you on the reels of the Zero Day slot by Mancala Gaming. Or, if you are more into manga stories, check out Kitsumi's Scrolls by Spinomenal with its juicy lineup of 5 awesome bonus rounds.
Finally, the team of Hacksaw Gaming will invite you to check into the Mystery Motel. Rumor has it, each of its reels contains doors to suits packed with bonuses. The game is live in BitCasino.io (to go to the casino, see the button above).
Cowboys Gold Slot by Pragmatic Play: The Good-Old Western Action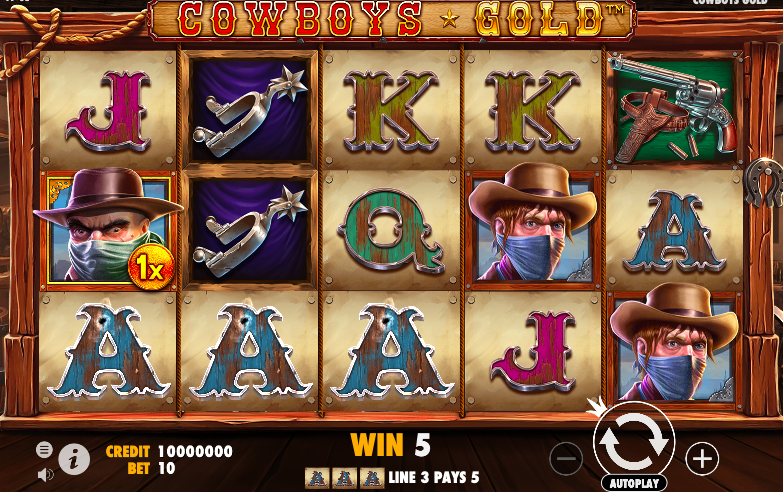 RTP: 96.50%
Volatility: high
Maximum win: x60,650.00
Cost of spin: 0.10 cents to 100 credits
Regular symbols: 8
Paid special symbols: 7 cowboys, each paying between 1x to 100x
Reel configuration: 5x4, 10 adjustable lines
Who doesn't love a good-old Western?
In the Cowboy's Gold slot, Pragmatic Play's team plays by the rules of the genre, creating a quality American slot. You get the squad of cowboys and a renegade clashing in a saloon, while the reels are being filled with horseshoes, liquor, guns, and card icons from Ace to Jack. The studio did a splendid job both in terms of visuals and the soundtrack, setting the mood to jump in on all the action.
And there is lots of action to jump in on!
For starters, during any of the regular spins, any of the cowboys that land and participate in a winning combination may multiply the win by 1x to 100x. Plus, if a renegade lands on the fifth reel at the same time, this controversial figure may add the value of all the cowboys to boost even bigger wins.
The cherry on top is 10 to 25 free spins unlocked by the Skull Bonus symbol. While in this bonus round, you may expect wins to be multiplied anywhere between 1x to 5x. The Wild is available, too. It doesn't pay on its own, but it sure does deliver substitute payouts.
If you are feeling like gearing up to hit the saloon and claim the dusty town along with the rest of the cowboys, check out some of the latest Pragmatic Play-friendly online lobbies.
Queen of Bounty Slot by Pocket Games Soft: Up to 40x in Free Spins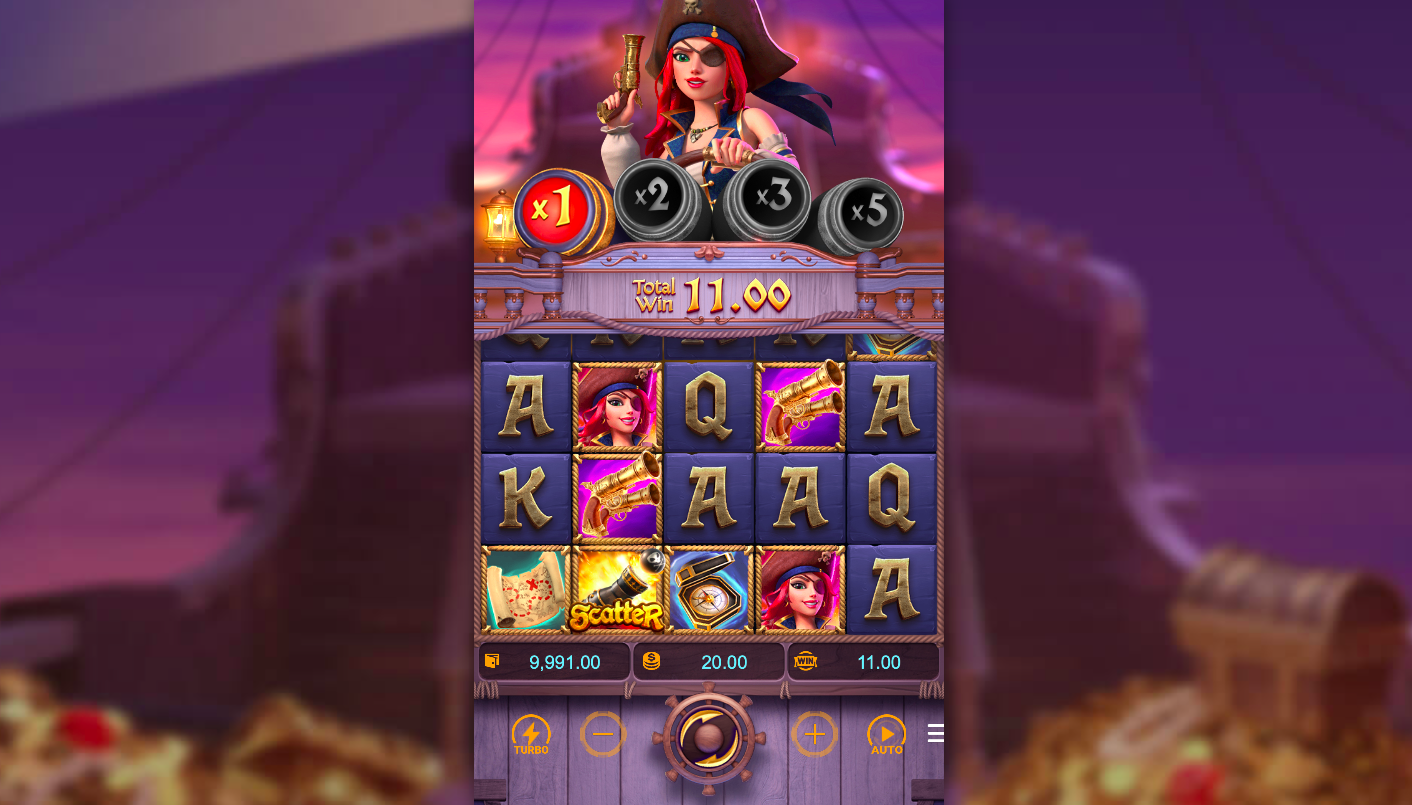 RTP: 96.75%
Volatility: medium
Maximum win: 50,000x the stake
Cost of spin: 0.20 cents to 100 credits
Regular symbols: 7
Paid special symbols: neither Wilds not Scatters pay
Reel configuration: 5x3, 20 adjustable lines
She is young, fierce, and very charming!
Meet Grace, the Queen of Bounty in the classic pirate-themed slot from the team of Pocket Games Soft. A widow of the infamous pirate Blackbeard, Grace becomes the Queen of the 7 Seas and owns a secret map to the treasure island. Lots of ambitious sailors and sneaky pirates have fallen when trying to steal the map from this lady. Dare to be one of them stealers, or care to join forces with her and to maybe find some bounty along the way, too?
Adapted to English and Chinese languages, this reeled story has everything we love so much about pirate slots. There's adventurous and epic music, all the classic elements of the setting, including the wooden ship, barrels, cannons, treasure chests, and whatnot. Plus, the creatives from Pocket Games Soft add their signature 3D-rendering, which makes the slot look very juicy.
As far as the features go, you will be able to enjoy the cascading reels on every win in the base game. Shooting fire from her cannons, Grace the Bounty Queen will also apply win multipliers from 1x to 5x to a set of cascades. Plus, there are the free spins. Make your choice. You can either play 20 bonus spins with wins multiplied 5x, 10 spins with a multiplier of 20x applied, or risk with only 5 spins. Wins in them will be multiplied 40x!
If being part of a pirate adventure sounds about right to you, see our list of the best lobbies that have games from PG Soft.
Silk Dynasty by Dreamtech Gaming: When Asia Meets Steampunk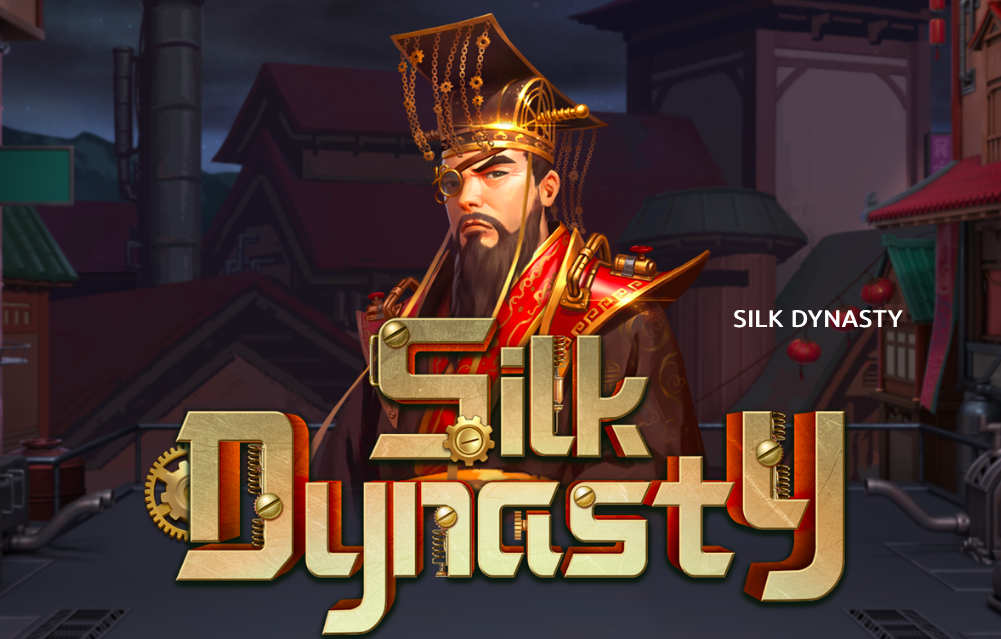 RTP: 96.46%
Volatility: medium
Maximum win: 4,000x the stake
Cost of spin: 0.10 cents to 100 credits
Regular symbols: 10
Paid special symbols: Wilds and Scatters don't pay
Reel configuration: 5x5, 40 adjustable win lines
A new Asia-themed slot is something we get every week, right? And even more than one release per week. But how about an Asian story with a steampunk flavor to it? Now, that's new!
Set in imperial China, this reeled narrative combines an homage to the country's rich culture and also takes the best from the aesthetics of steampunk, with its metal elements, time being the key trigger of the story, and whatnot. The leader of the action is the emperor, and he is surrounded by his totem animals – an elephant, a dragon, a horse, and a fish. Plus, there are 6 stylized amulets and card suits.
One of the most enjoyable features of this game is the Moving Multiplier, something you don't get very often. It is activated in free spins. Basically, if a win lands within the margins of this moving multiplier, you score. A dozen bonus spins are awarded initially, and more can be retriggered within the round. In the base game, Wilds take care of boosting the wins.
The game is licensed to be distributed across Malta Gaming jurisdiction, United Kingdom, Denmark, and Sweden. It is adapted to several languages, including English, Finnish, Norwegian, Italian, and Chinese. Already out and waiting for you in the Dreamtech Gaming-friendly lobbies!
24K Dragon by Play'n GO: Grow Your Grid to 8,192 Ways to Win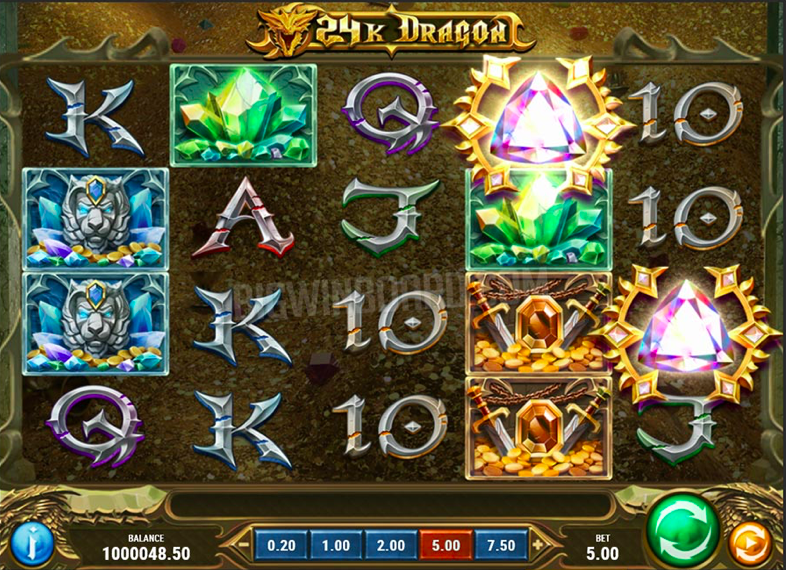 RTP: 96.20%
Volatility: high
Maximum win: 24,000x the bet
Cost of spin: 0.20 cents to 100 credits
Regular symbols: 10
Paid special symbols: Wilds and Scatters don't pay
Reel configuration: 5x3, 1024 to 8192 win lines
If you are judging by the title, it may seem like we are offering you yet another Asian-themed slot. However, this one comes from the land of the fantasy genre. We're getting fewer fantasy slots these days, they've surrendered to some of the newer genres. This does not mean that we don't like a good fairy-tale-ish story once in a while, with all the secrets of the mountain, fictional lands, and races, and the team of Play'n Go does just that, indulges us.
Head into the heart of the enchanted mountain, where a Smaug-like dragon sleeps on a pile of gold, and try to fish out your fair share of adventures and wins. Delivering the story are the gold and silver dragons, as well as the following symbols: swords, green gems, crystals, lions, and card icons from Ace to 10.
The treasure chest, which is the Wild card, will land on the reels in the base game occasionally, cracking to open 2x to 4x the wins. Should you land a golden dragon, it will activate up to 4 additional rows and a respin.
In the free spins, of which there are 8 to 20, you have a chance to expand the grid up to 8,192 ways to win. Collect the dragons and watch the layout expand. Plus, wins can be multiplied up to 64x!
Check out this game in one of 100s of Play'n Go platforms. Pick the most suitable one!
Zero Day Slot by Mancala Gaming: Wins Up to 4,050 Coins Per Spin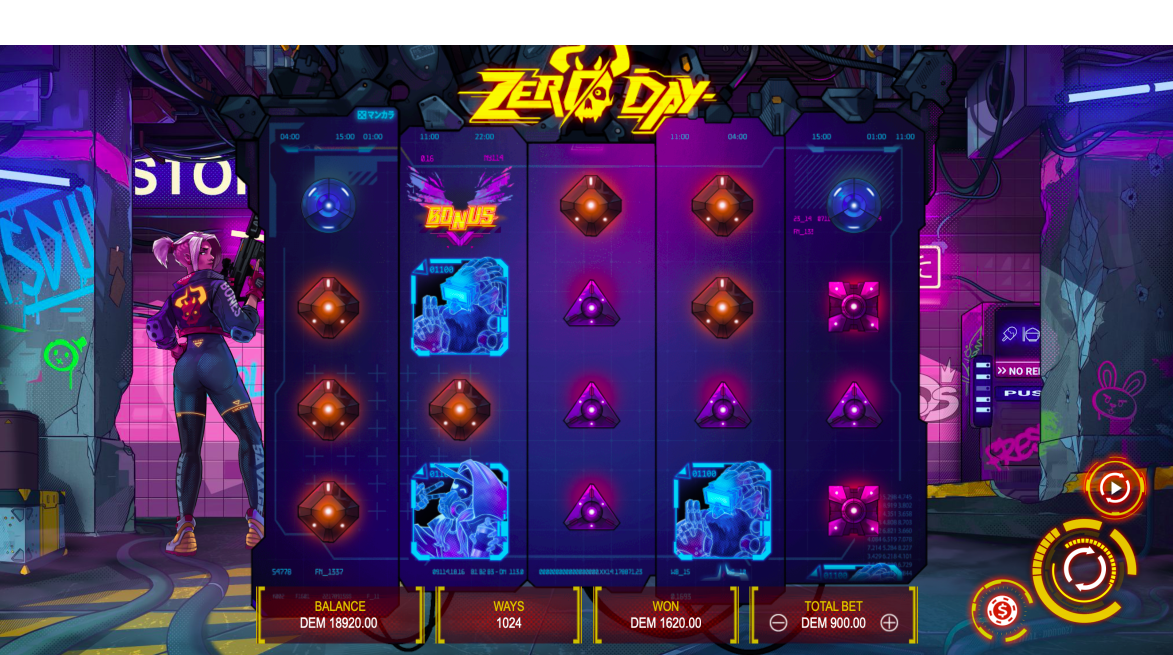 RTP: 95%
Volatility: unknown
Maximum win: 270x the bet
Cost of spin: 10 - 900 coins
Regular symbols: 9
Paid special symbols: Wild and Bonus icons don't pay
Reel configuration: 5x4, 1,024 ways to win
The neon reels of this futuristic slot are a time capsule into the future where the cities are run by renegades and outlaws. Meet your new crew – the samurai Tokameda, the monk Bunan, the graffiti girl Dee, and the dangerous shooter Bones. This may be challenging, but it is up to you to find your way in this Zero Day adventure with the new, post apocalyptic laws and routines.
The creative team of Mancala Gaming does an excellent job of creating colorful and engaging reels and a dynamic futuristic soundtrack. The winning combinations are formed not only by the main characters but also by the sacred amulets. The skull is Wild, and the wings are a bonus symbol.
Randomly in the game, a 2x symbol will land, multiplying any win it participates in. Should you land a combo of bonus wings, you start the Pick a Box game.
You will be given a choice of five boxes, each hiding either 1 to 30 free spins or cash wins. These may be between 900 to 4,050 coins.
The game is available in multiple jurisdictions and is adapted to English, Russian, Spanish, Portuguese, Swedish, Chinese, Italian, and Finnish languages. If you haven't already tried any of the slots by Mancala Gaming, this one is a good starting point to discover a new and fun studio! Check our recommendations regarding suitable gaming lobbies for this brand.
Kitsune's Scrolls Slot by Spinomenal: 5 Great Features to Explore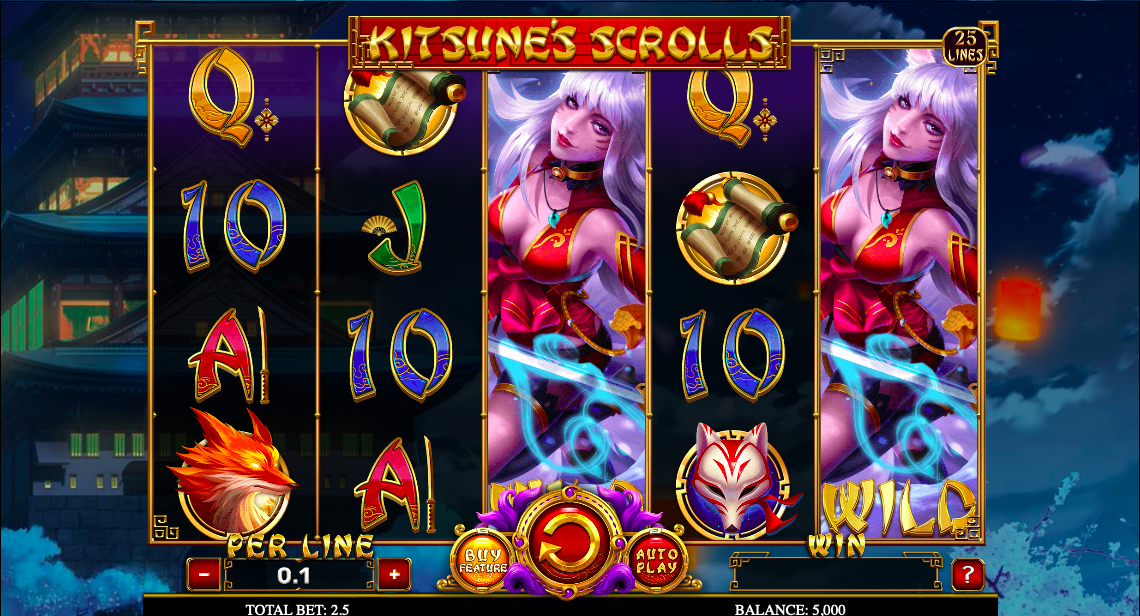 RTP: 95.8%
Volatility: unknown
Maximum win: 500,000 coins
Cost of spin: 0.25 cents to 250 coins
Regular symbols: 9
Paid special symbols: Kitsune is Wild and pays up to 2,000x the line stake
Reel configuration: 5x3, 25 fixed paylines
Another theme that today's developers don't look into too frequently is Japanese folklore. Kitsune's Scrolls slot is a pleasant surprise to all the manga-meets-folklore fans. It relies on Japanese visual aesthetics and combines lots of bonus action with meditative music.
Set outside the pagoda at night, the story revolves around Kitsune the warrior and her magic scrolls. Starring among other characters are symbols like foxes, masks, swords, and card icons from Ace to ten.
Both the base and bonus games are eventful! In the base rounds, you can expect two random reels to synchronize and to expand the winning possibilities. What is more, sometimes these synced reels may catch a Wild or two. If this is the case, the Wilds will automatically expand to cover the reels completely.
Plus, any wins – both the regular ones and the ones coming from the synchronized reels, can be gambled. Bet on red or black and hope for your payouts to double or even quadruple!
The game also has a fixed set of bonus spins with between 1 to 3 stacks of Wilds per spin. You can either wait for the 3 Free Spins symbols to line within one spin, or you can buy this feature. Spinomenal adds this option to most of its slots.
Plus, Kitsune generously powers the bonus round. In it, start with the 3 free spins and collect as many treasure boxes as possible to fill in the meter. The meter has 10 sections and possible rewards between 3x to 500x the win per round. You will not be limited to only 3 free spins, as there is always a chance to pick up some bonus rolls, so best of luck! Here is our list of Spinomenal lobbies.
Mystery Motel Slot by Hacksaw Gaming: 3+ Bonuses to Benefit From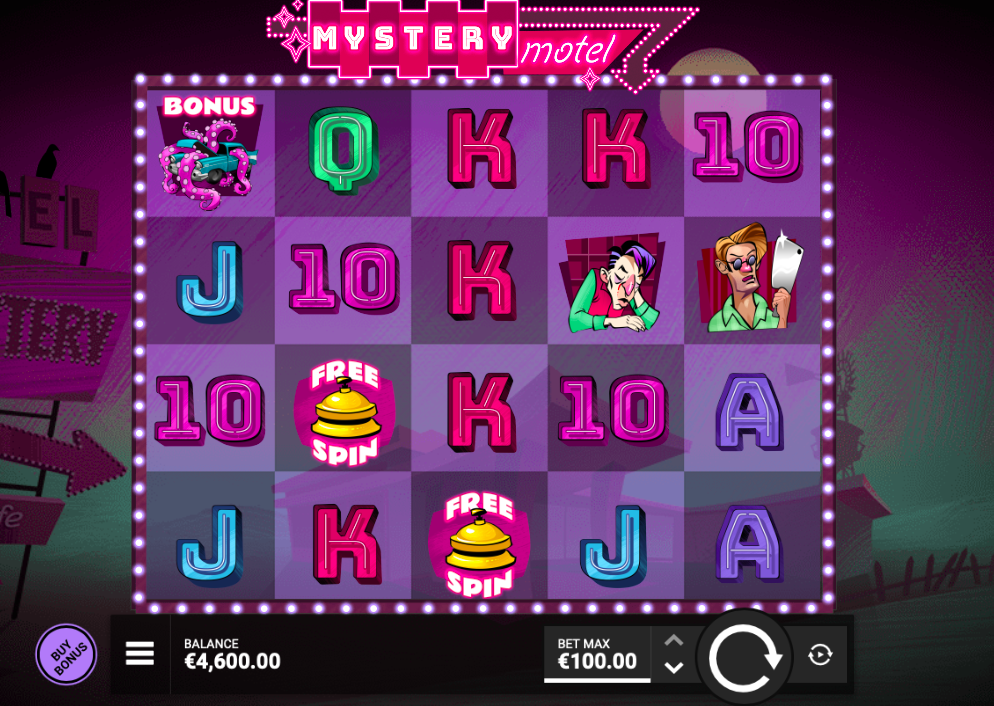 RTP: 96.30%
Volatility: unknown
Maximum win: 10,000x the bet
Cost of spin: 0.20 cents to 100 credits
Regular symbols: 9
Paid special symbols: Wild disburses random multipliers between 2x to 5x
Reel configuration: 5x4, 1,024 ways to win
In the middle of nowhere, off the beaten path, this odd motel has a lot of secret rooms to explore. Unless, of course, you are not into horror slots and all of their spooky stories twists.
The story takes place at dawn. The background of the grid is in violet and pink colors, which adds a fair share of mystery and suspense. The neon sign Vacant is off and on, while the front desk manager does not even bother to fix it. In fact, he is asleep and missing out on the rich lady arriving at the motel, and an odd-looking checked-in gentleman who, for some reason, carries a massive knife. The only witness to this mess is a maid, and, well, card icons from Ace to ten.
Randomly in the base game, Wild cards may deliver multiplied wins. A suitcase will open and an green arm will throw out anywhere between 2x to 5x onto the reels.
You can also either collect Scatters to unlock 8 to 20 bonuses, or simply buy a feature to provide spins. In addition to the bonus rolls, the motel also has a room with a bonus wheel. It is level-based, with arrows sending you higher and higher until you reach the third level. Of course, you may also run out of luck prior to reaching the top tier. The rewards are free spins or multipliers.
Ready to explore the motel? It is already live in many Hacksaw Gaming-friendly online lobbies.
Our Take
So many games, so little time! So, here's our summary that might make it easier for you to choose.
If you are more on the high-roller side of reel-spinning action, then check out the Zero Day slot by Mancala, which allows investing up to 900 coins, or activate Kitsune's Scroll by Spinomenal. This game's maximum limit per spin is 250 credits.
If maximum advertised wins are alway on your radar, don't miss out on Cowboy's Gold slot by Pragmatic Play with its advertised maximum reward reaching up to x60,650.00 per spin.
Are you more into classic adventures and cascading reels? Queen of Bounty by PG Soft may be the game to consider, while Silk Dynasty by Dreamtech Gaming is definitely for those of you looking for a value of a classic and modern story mix.
24K Dragon by Play'n GO definitely wins in terms of the grid capacity, as it can expand to fit more than 8,000 bet ways. When it comes to the generous amount of the winning mechanisms, Hacksaw Gaming's Mystery Motel has a lot to offer.