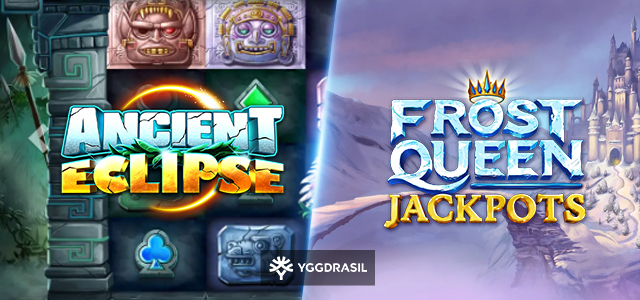 Yggdrasil Gaming Launches 2 Intriguing Slots This Winter
#GameRelease #GambleLike_LatinAmerica
Yggdrasil Gaming always has a bunch of new slot machines to offer players exciting gameplay, stunning visuals, thrilling themes, or innovative mechanics. Sometimes, all these features are available in one release. Thus, it is easy to understand why all releases by this studio are anticipated ones, and Frost Queen Jackpots and Ancient Eclipse slots are not an exception. Let's look closer at these games to see if the content is worth waiting for.
ANCIENT ECLIPSE
Ancient Eclipse is one of those releases created by young studios and provided by Yggdrasil. This game was created by Bang Bang Games that joined YG Masters in July 202.
Visuals & Idea
Well, the idea is not new, but it is still exciting and original. The slot transfers us into Central America and offers us the chance to explore a Mayan settlement and discover more about its culture. Instead of telling us about its crafts, treasures, or legendary calendar, the machine offers an exclusive opportunity to observe a rare phenomenon – a solar eclipse. It is something not that common, and, as a result, the intrigue is alive.
In terms of graphics and visuals, Ancient Eclipse does not stand out. Symbols lack animation, and the background is somewhat predictable: the entrance to the temple hidden in the jungle.
Payouts & Bonuses
These aspects of the slot make it worth a try. Although regular symbols cannot boast big payouts, special features increase the maximum payout to a decent figure – 4,595x the bet.
On top of good payouts, bonus rounds offer some novelty. Wild Eclipses wrap symbol transformation into an interesting plot: moon symbols land on the grid and transform into Wilds when they match the Sun frame on symbol cells. If Moon icons do not trigger Wild Eclipses in Sticky Sun Free Spins, they award extra rotations.
FROST QUEEN JACKPOTS
Yggdrasil's team does not only provide releases developed by partner studios, it also presents its own games from time to time. Frost Queen Jackpots is one of them. It was released on January 4th and met players' desire to play winter-themed releases.
Visuals & Idea
Players are transferred into the snowy mountains where the Frost Queen dwells and guards a big treasure. The queen gives them a chance to search for golden keys to open the treasure chest and take a share of the fortune home.
As you can see, the plot is a common one. Yet, it is perfectly suitable for a winter tale.
If to speak about visuals, they are decent. The quality of graphics is good, and some animation is available as well. Yet, Yggdrasil has set a high benchmark for this aspect in many previous releases, so Frost Queen Jackpots does not offer something surprising in terms of graphics and theme realization.
Payouts & Bonuses
That is where Frost Queen Jackpots slot shows Yggdrasil from its best side. Feature-packed gameplay complemented by several jackpots is a perfect combination!
There are five jackpot wins in this machine. They can be scooped when five gems of the same color are collected during free spins. The path to the maximum win is not easy but it is exciting. Moreover, the queen offers you the opportunity to play the Bonus Chest round and get an instant win or a key to unlock free spins. Other ways to win free rotations are having three Scatters or finding a Magic Mirror.
Yggdrasil's Statement
Jonas Strandman, Senior Games Strategist at Yggdrasil, commented on the release:"Frost Queen Jackpots transports players to an icy castle in the bitter midwinter with the chance to escape with massive jackpots. Despite the cold theme, the audiovisual presentation gives a fuzzy warm feeling for the cold winter days. Yggdrasil's multi-feature jackpot games have been player favorites for a half decade and Frost Queen Jackpots follows in line with simple rules, big variety of features and frequent jackpot chances."

Moreover, do not miss new winter releases by iSoftBet.