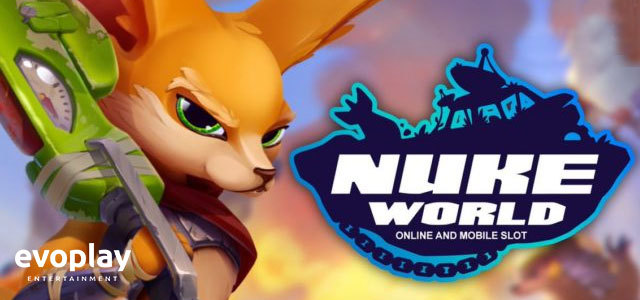 Evoplay Entertainment Unveils an Innovative Nuke World Slot
Iryna SI
#GameRelease #GamingInnovations
Evoplay Entertainment releases a new slot machine, expanding its portfolio with yet another cutting-edge game with innovative features and a unique theme.
The studio invites players to explore the post-apocalyptic world with plenty of characters, each with its own superpowers, caused by a nuclear explosion. This completely new universe is located on the grid of Nuke World slot.
"built using the latest tech with fantastic graphics"
Keep an eye on the brave Captain Fox, as he combats his enemies (Rhino, Rooster, Chameleon, and Armadillo) on the 7x7 grid of Nuke World with match-three mechanics.
Evoplay has added plenty of exciting features to keep you on the edge of your seat all the way through the gaming experience. Thus, you can also count on special rewards each time Captain Fox defeats his enemies. In addition to that, there is a range of wilds, random events, and bonus rounds.
Roman Sadovskyi, Product Owner at Evoplay Entertainment, comments: "Nuke World is set to be one of our most unmissable slots this year, and we challenge you to join the battle! The first theme of its kind, our fantastic design team loved putting Nuke world together. Built using the latest tech with fantastic graphics to go alongside; it's not one to be missed."
If you are more interested in money-themed slots, check new releases by BetSoft and Microgaming.