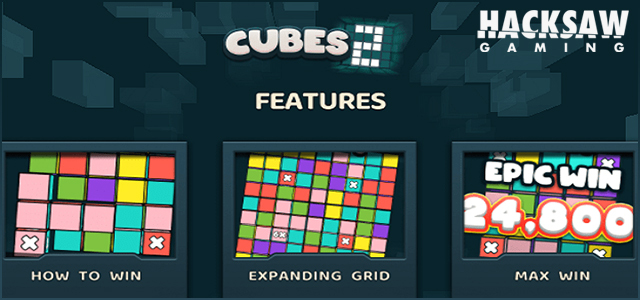 Cubes Vs Cubes 2: Is Sequel Better than Original?
Hacksaw Gaming is a new studio that has already received a reputation of a creative software developer that is not afraid of experiments and blends of styles and features. A great example of its philosophy in gaming is a series of Cubes slots. Currently, there are two games in this suite, and we will explore them further.
CUBES
It all started in May 2020 when Hacksaw Gaming released Cubes. This slot draws the attention of players due to quite a simple theme that does not have many extra elements and an innovative approach to reeled mechanics.
The grid consists of an initial 5 reels and 5 rows that are filled with colorful squares. All of them have the same value. Wins are rewarded for collected clusters. Each time a cluster is created, the grid expands. This happens until it grows to 11x11. Moreover, there are middle multipliers that increase when the central tile is a part of a winning cluster. Free Spins round is one more bonus that adds an extra thrill to this game.
CUBES 2
The success of the creative Cubes inspired the studio to work on a sequel. It saw daylight in February 2021 offering players the chance to enjoy a game with the same concept and improved bonuses. The idea of the slot is preserved, but the colors of the tiles are changed. The mechanics remain the same as well. At the same time, bonuses are modified.
Instead of Middle multipliers, there are Corner multipliers in Cubes 2. The way they function is the same as in the original game. Moreover, there are up to 12 free spins with special color and sticky tiles. Finally, you can play Multi-Color Free Spins with several colors being sticky.
IS NEW BETTER THAN OLD?
Hacksaw Gaming claims that Cubes 2 has better bonuses and bigger payouts. We can also add that the design of the grid became more modern. An animated background and less intense colors make the game fancier.
The studio has also increased your chances for a multiplier, by adding three additional X tiles. The maximum number of free spins was increased by 2, and a new Multi-Color Free Spins bonus has been added. All these improvements in bonuses create more winning opportunities and make your gaming experience more dynamic and exciting.

You may also be interested in the overview of two new games by Yggdrasil.