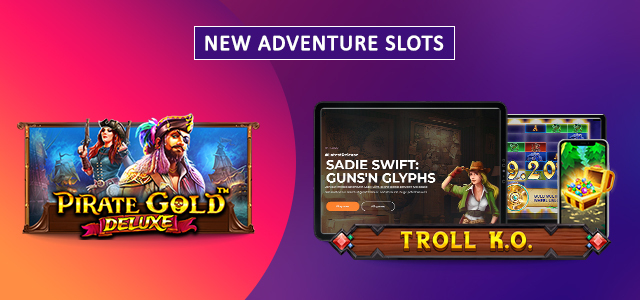 8 Adventure Slots with Immersive Stories and Unique Features | What's New to Play at Casinos?
Inessa R
Boy, do we have a treat for you today!
8 awesome content developing studios. 8 engaging slot machines. 8 unique stories with unusual narratives, lots of charismatic characters, and exciting plot twists!
We've hand-picked a set of slot machines where the story is as important as the set of features. And don't get us started on those. Get ready to enjoy not only the good old free spins and gambling rounds but also an array of new and exciting winning mechanisms.
Just to give a sneak peek before we dive into the nuts and bolts of every game, the creative team behind Sadie Swist Guns'n Glyphs supplies the game with 2 separate sets of reels covering simultaneously two insanely popular slot topics and genres. At the same time, the developers of LatAm-based Vibra Gaming deliver a tribute to the '60s aesthetics along with the legendary Popeye sailor and two unique Wild modifications to enjoy.
You will be able to look for rewarding 9-of-a-kind combinations on the reels along with the characters of the Forest Hunter slot and expand the grid to 100s of win lines once you launch the BountyPop slot.
If you are a fan of progressive jackpots, definitely join the crew of pirates on the reels of the Pirate Gold Deluxe slot. They are looking for Minor, Major, and Grand jackpots. Rumor has it, that it may even be available in the BetChain Casino (to go to the casino, see the button above).
If you've never tried to mix basic reel spinning with quests of a skill game, don't hesitate to check out Troll K.O. by Green Jade Games. If all you want is a simple story with a couple of familiar features (like free spins and multipliers), Super Creeps by WorldMatch or Underwater Adventure by 7Mojos may be your perfect picks.
And now, let's dive into today's adventures!
Sadie Swift Guns'n Glyphs by Kalamba Games: 1 Character, 2 Stories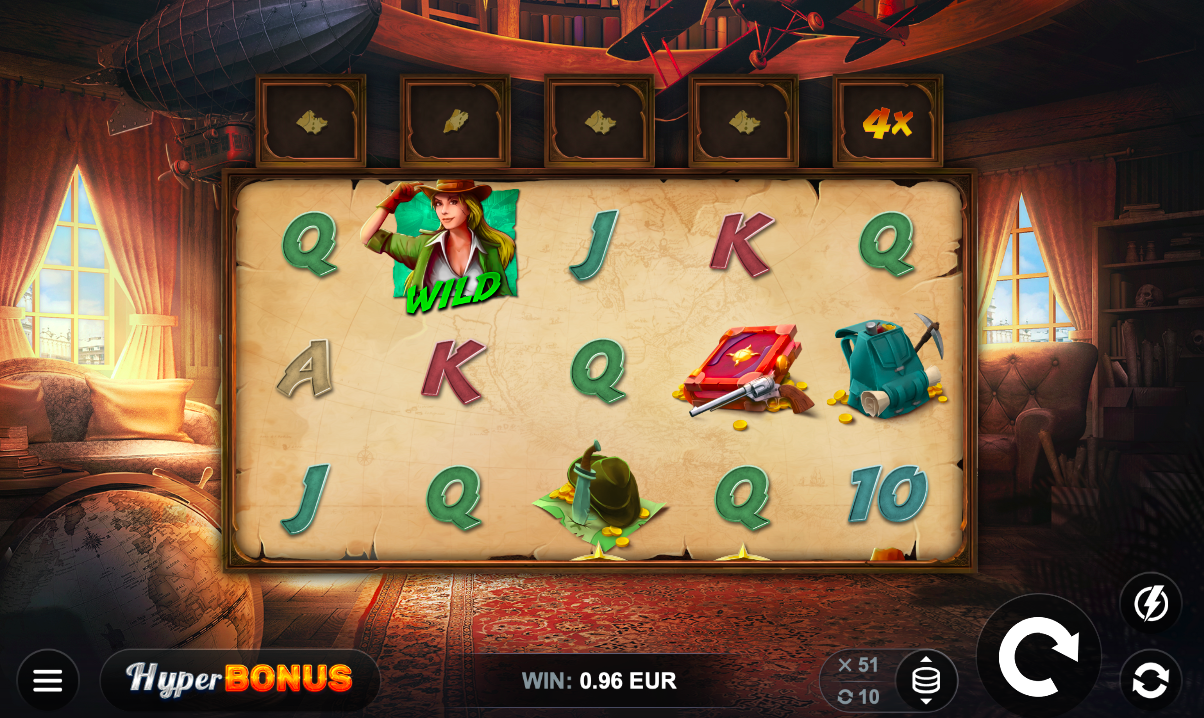 RTP: 96.24% to 97.18%
Volatility: adjustable, up to 9/10
Maximum win: 14, 144x bet
Cost of spin: 0.35 cents to 45 credits
Reel configuration: 5x3, 20 fixed win lines
Set to make history, in November of 2020 the creative team of Kalamba Games co-developed this release with the streamer CasinoTest24. This is the debut game in such a format.
Not only does it aim right into the heart of those always looking for the new and modern content but it also unites fans of Egypt and Wild West slots. This game has two sets of reels, each located in these highly popular destinations and brough together by a single character. Meet the restless, adventurous, and hungry for major wins, the one and only Sadie Swift.
This lady is a Wild card of the game, and she is accompanied by treasure chests, backpacks, maps, books of spells, and card icons from Ace to 10.
Following the map to unique artifacts and treasures, Sadie jumps from reel to reel, activating random win multipliers. These can reach up to 55x the stake. When she collects 3 or more Bonus Compass symbols, she then heads to either of these two types of free spins:
Egyptian Free Spins with a collectible Scarab that turns reels into Expanding Wilds.
Wild West Free Spins that rely on the Sheriff Star to grow the win multipliers.
In addition to these goodies, you will also be able to adjust Kalamba's signature HyperBet to a level of volatility that you feel the most confident about.
The release is adapted to 20+ languages, including Swedish, English, Finnish, and Norwegian. Check it out in 100s of awesome lobbies where they have content from Kalamba.
Popeye Slot by Vibra Gaming: 2 Enjoyable Wild Features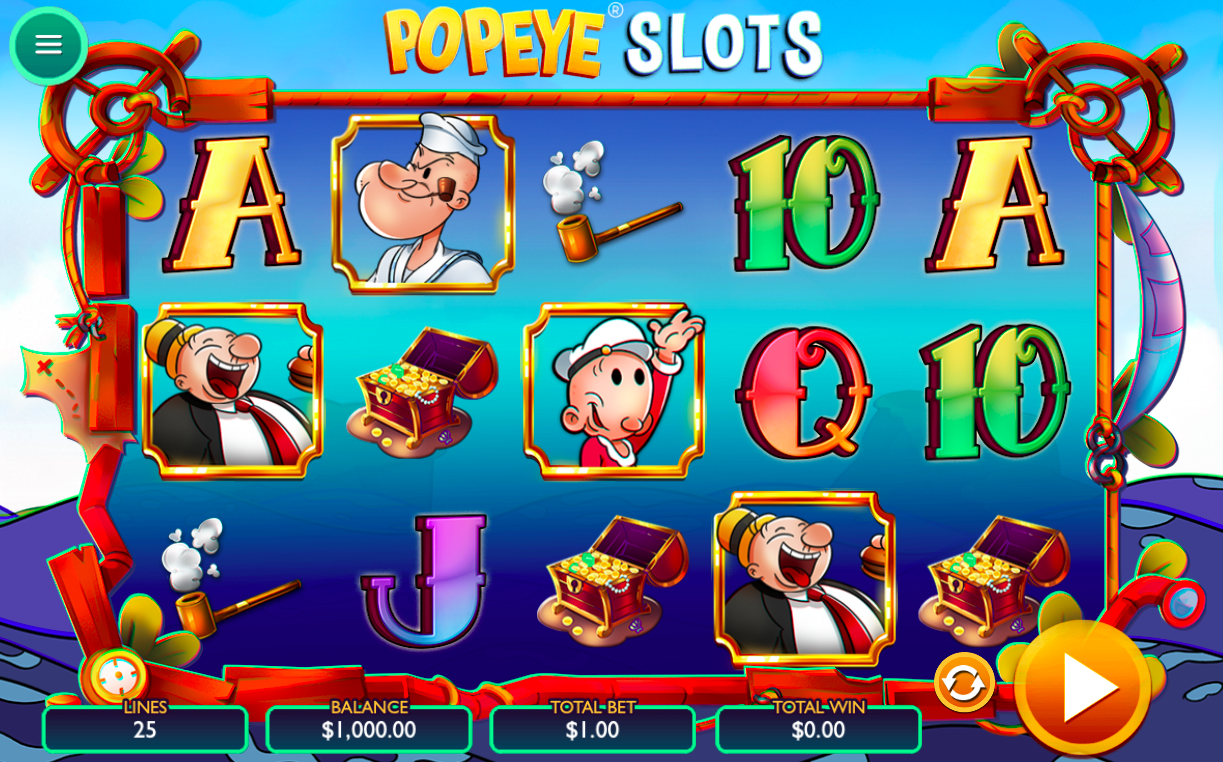 RTP: 95%
Volatility: high
Maximum win: 1,950x the stake
Cost of spin: 0.25 cents to 2.50 credits
Regular symbols: 11
Paid special symbols: Wilds don't pay but have special features attached to them
Reel configuration: 5x3, 25 fixed win lines
A lovely tribute to the aesthetics of the '60s, Popeye Slots is a cartoonish game with all the old but famous characters making a comeback into the public eye. Here comes the sailor Popeye, the love of his life, Olive Oil, and the eternal nemesis Bluto.
The game immediately sets a great mood and triggers good memories. Vibra's team hits that sweet spot where you are not tired of the theme and are, therefore, immediately involved from the very start. Well done, team!
What is more, in addition to being such entertaining reeled adventure, it may also be quite a lucrative one. The game relies on two Wilds. these are Olive Oil and Bluto:
Olive appears on reels 2 through 4 and activates Expanded Wilds and a series of respins.
Bluto lands on the 3rd reel and expands to other positions. It then triggers respins and leaves a trail of Sticky Wilds behind.
You can also collect three cans of soda to activate anywhere between 8 to 20 free spins with both Olive and Bluto maintaining their special powers. The game is an excellent fit for the low rollers. It is adapted to quite a few languages, including Spanish, Portuguese, and Italian. Check it out on the virtual shelves of Vibra Gaming-friendly platforms.
Forest Hunter by Gameplay Interactive: Pays Up to 5,000x the Bet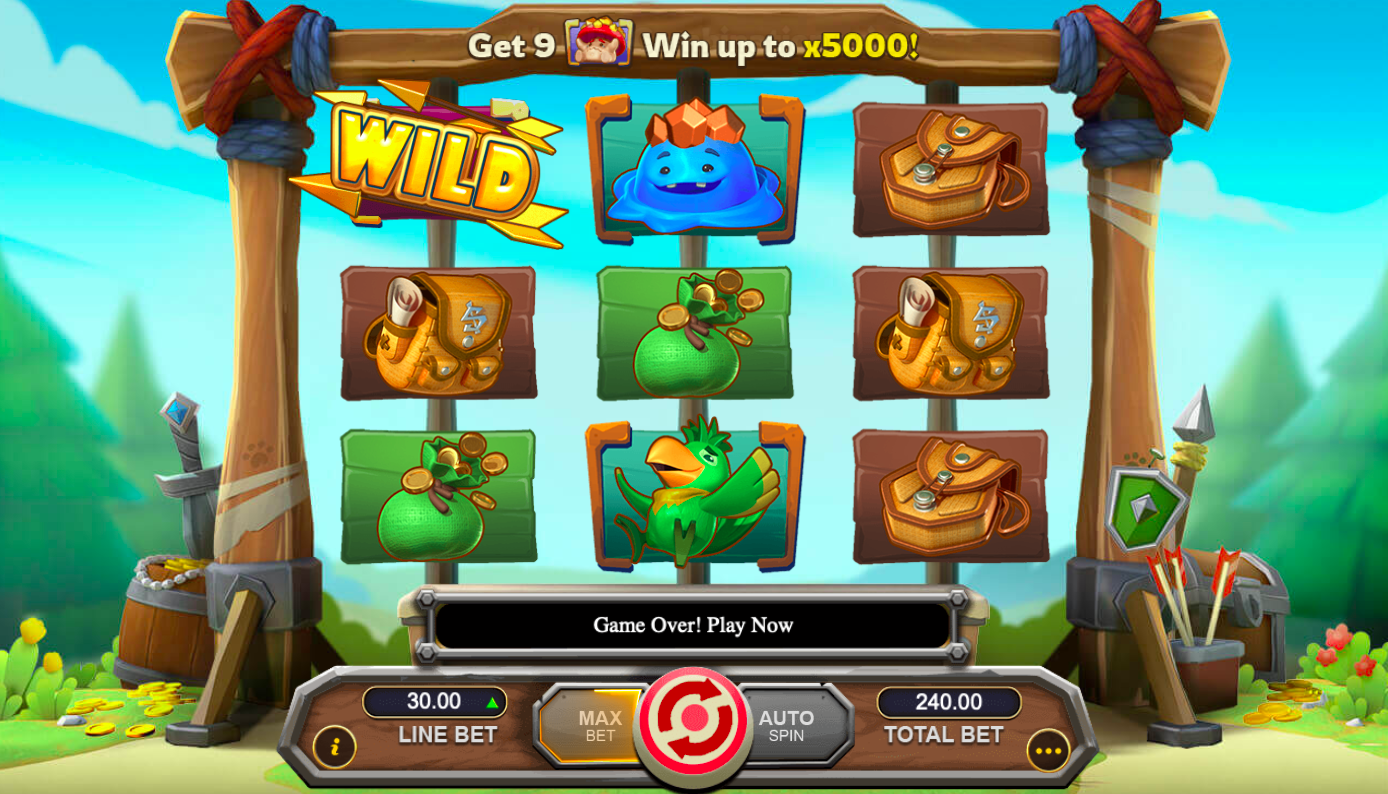 RTP: 96.97%
Volatility: unknown
Maximum win: 5,000x the stake
Cost of spin: 1.20 to 240 coins
Regular symbols: 9
Paid special symbols: Wilds and Bonuses don't pay
Reel configuration: 3x3, 8 fixed lines
There are certain stories that never go out of style, and the 3 Musketeers is definitely among them. Lots of great software developers, including Red Tiger, Amatic, and NetEnt, have rolled out their reeled versions of the adventures.
And now, the time has come for a very unusual interpretation of this tale, and it is all the favorite characters mixed with some Asian flavor and personages. Interplay's team decided that it is either go big or go home, so it revamped the narrative dramatically!
The reels are drawn in a unique way, too. 3 reels and 3 rows are wooden plaques attached to the fence and spinning in a direction where the wind blows. Located on the reels are lots of fun symbols, including the jellyfish, mushrooms, pigs, bags with gold, maps, and sacks.
The leading characters of the story are the musketeer cats. Their appearance triggers the Hunter Mode with 5 free spins. Wins during these rotations may be multiplied 5x to 10x. Plus, the team of developers introduces lucky combos, when either of the high or low-paying symbols lands ina 9-of-a-kind combination. This triggers massive multipliers!
Check out this title in numerous online lobbies that host releases from Inteplay.
BountyPop by AvatarUX: A Whopping 55,000x the Bet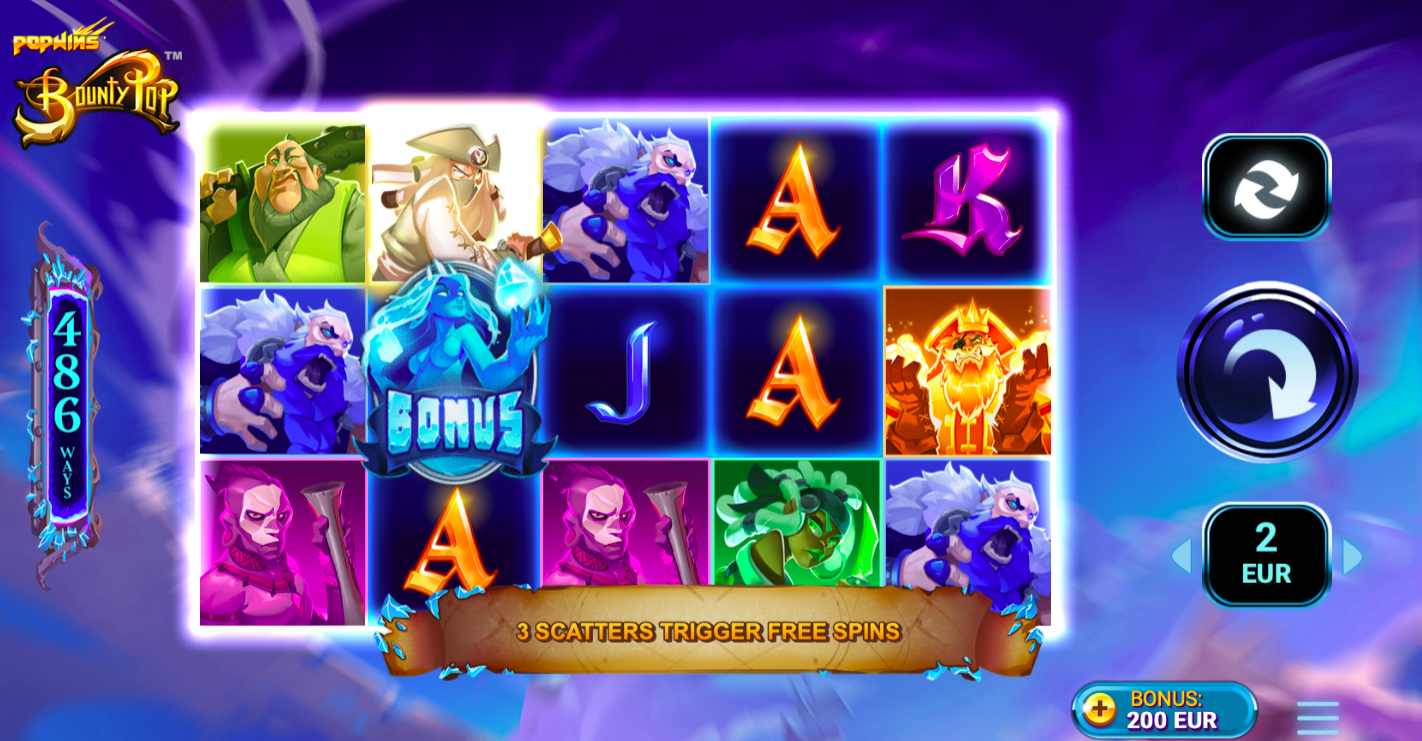 RTP: 96%
Volatility: high
Maximum win: 55,000x the stake
Cost of spin: 0.20 cents to 20 credits
Regular symbols: 12
Paid special symbols: Bonuses don't pay
Reel configuration: 5xx to 9x3, 486+ ways to win
Leave it to Yggdrasil's production team to make a reeled adventure as epic as it can only get! This tendency remains even if it is not YGS' team making the game but one of its Masters' partners. In this case, we are talking about the up-and-coming team of AvatarUX. A dark horse at first, it has now turned into a fierce and unapologetic creator of truly engaging slot narratives.
The company masterfully mixes together lots of the genres, adding pirates, kings, fairies, and Indigenous tribes into one well-told story. It almost seems like the company references Columbus and his brutal soldiers landing on the new lands with an intention to push back the natives and to establish a new empire, while the locals, armed with wisdom, powerful weapons, and backed up by the sorceress, are ready to protect the land whatever the cost.
AvatarUx adds its already signature PopWins to the reels. The essence of the winning mechanism is in wins expanding the grid and blowing the number of ways to win out of proportion.
The game is also equipped with 6 to 12 free spins on a growing grid and offers to gamble the free spins first for a chance to either receive even more rolls or for a risk to lose it all and to return to the base game. Plus, gameplay is topped with a level-based Mystery Reel that allows winning up to 100x the stake. All of these awesome adventures are already live in casinos that signed a contract with AvatarUX.
Pirate Gold Deluxe by Pragmatic Play: Progressive Adventures Coming Your Way
RTP: 96.48%
Volatility: high
Maximum win: 15,000x the bet
Cost of spin: 0.20 cents to 100 credits
Regular symbols: 10
Paid special symbols: bonus symbols don't pay on their own
Reel configuration: 5x4, 40 fixed lines
Released in November of 2020, a few weeks past the Halloween season, the Pirate Gold Deluxe slot still has that spooky Halloween spirit mixed into it. The creative team at Pragmatic Play goes above and beyond to create a classic pirate adventure, with the interactive background representing the restless sea.
The set of characters includes a pirate, his partner (she is a hoot!), parrots, wooden ships, maps, hooks, gold, silver, and bronze coins, as well as the iconic-to-the-genre treasure chest.
The game may not be rich in terms of features. Instead of listing lots of smaller bonuses, the team focuses on creating an immersive jackpot experience. Landing 8+ bags with gold transfers you into the Lucky Treasure Bay bonus.
Here, all of the symbols but the bags with gold disappear. The task is to land as many icons standing for either Minor, Major, or (preferrably) Grand jackpot, as possible. You start with 3 respins and can collect more along the way. You can also land the win multipliers occasionally.
The adventures are live in all of the Pragmatic Play-friendly online casinos.
Troll K.O. by Green Jade Games: Slot Meets Skill-Based Games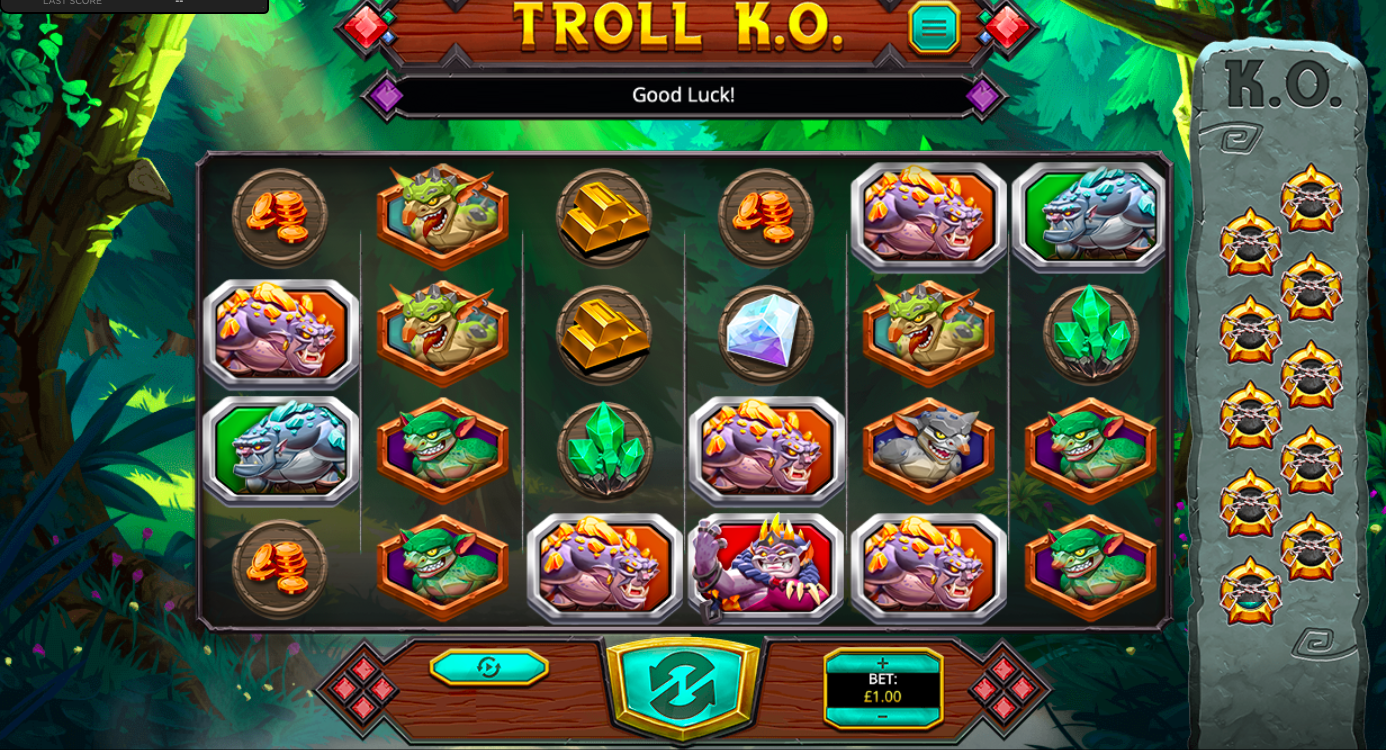 RTP: 93% to 97%
Volatility: unknown
Maximum win: 10x the line stake
Cost of spin: 0.50 cents to 25 credits
Regular symbols: 17
Paid special symbols: Bonus symbols don't pay
Reel configuration: 6x4, 40 fixed win lines
It's been a while since a good Scandinavian-themed slot came around. Well, leave it to the Scandinavia-based content creator Green Jade Games to fill in the blank and to deliver a truly enjoyable folklore adventure. This is Troll K.O. slot. K.O. stands for the knockout.
The release is set in a magical forest. If you've been with Green Jade Games from day one, fanatically monitoring each of its new releases, you will immediately recognize a tribute to the studio's earlier reeled hit, Hammer of Fortune.
The game has two sets of characters. In the base round, there are 6 trolls and 5 gems. In the free spins, there are 6 human personages. Additionally, you will be able to form the winning combos from the Winged Wild and the treasure chest bonus symbol.
What really makes the release stand out is a valuable mix of classic game-of-chance mechanics combined with a skill game. Located to the left of the grid is a stone with 10 symbols locked in it. Unlock them by lining winning combinations of 3+ characters and enjoy benefits coming from the Knock-and-Smash bonus.
Plus, land bonus symbols to get yourself either 10 to 80 free spins or 2x to 10x worth in multipliers, or enjoy Green Jade's signature Skill Balance Pot for lots of additional features and perks. The list of casinos that start content from Green Jade grows, so don't miss out on all the updates!
Super Creeps by WorldMatch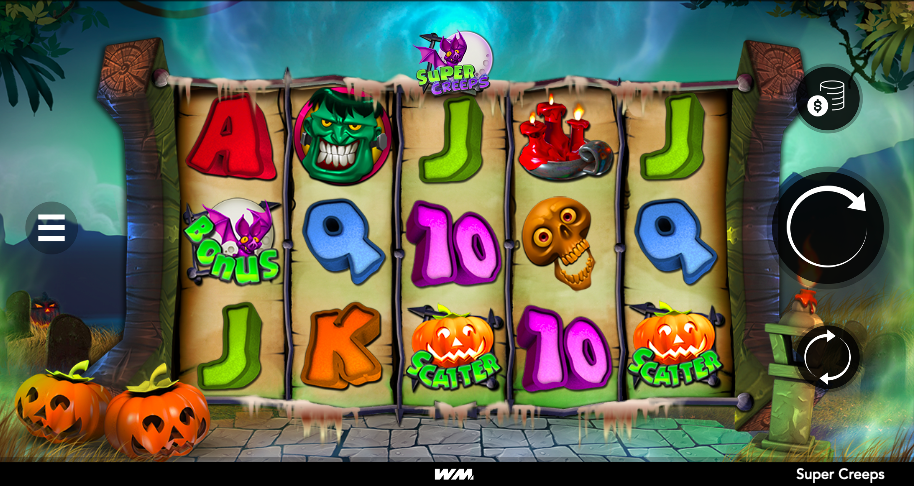 RTP: 94.89%
Volatility: low
Maximum win: 550x the stake
Cost of spin: 0.10 cents to 20 credits
Regular symbols: 11
Paid special symbols: Wilds and Scatters don't pay
Reel configuration: 5x3, 20 fixed win lines
For this game, the team of WorldMatch chooses to roll with the Halloween spirit and remains within the requirements of the genre. This means spooky music, creepy characters, cartoonish visuals, and vibrant colors all blended together into one unforgettable reeled adventure.
The key personages of this slot are the zombie, skull, ghost, bat, spider, and Jack o'Lantern. The list of other symbols includes potions, candles, and card icons from Ace to 9.
Hidden in an ancient cemetery, the reels spin to reveal wins from 3-of-a-kind and higher combinations. Every win is followed by a series of respins with cascading rows. Plus, the game offers between 8 to 12 free spins with win multipliers reaching 4x. What is more, an occasional bat landing on wins in bonus spins may add complementary multipliers.
Halloween slots are particularly popular among players in the fall and they usually come with special Halloween casino promotions. However, if you are a true fan of spooky adventures, you can head to these reels regardless of the time of the year. The game is available in a variety of WorldMatch-friendly online operators.
Underwater Adventure by 7 Mojos: 10x In Free Spins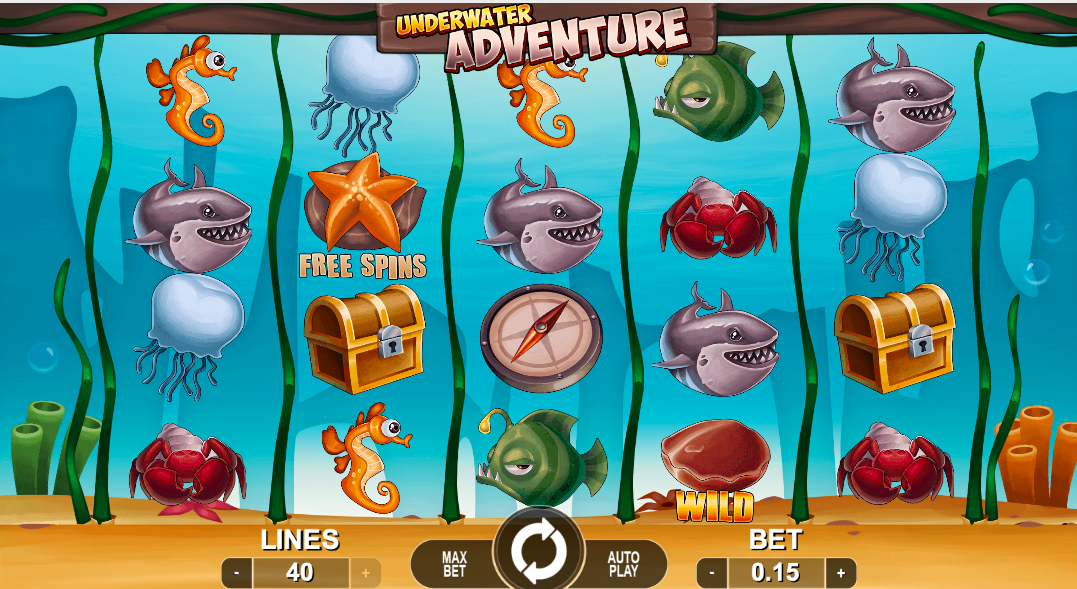 RTP: 94.20%
Volatility: high
Maximum win: unknown
Cost of spin: 0.40 cents to 400 credits
Regular symbols: 8
Paid special symbols: Wild and Scatter do not pay
Reel configuration: 6x4, 40 adjustable win lines
Sometimes, all of us want to trade a complex narrative for a simple story. This is when the Underwater Adventure may come in handy. Simple 2D visuals, an underwater fairytale not overwhelmed with characters, and fun and jolly music definitely put this game on the map.
Join the team of characters, which consists of the jellyfish, the seahorse, the shark, the crab, and the fish. Among other symbols, there are treasure maps, a compass, treasure chests, pearls, and sea stars.
The list of features is pretty basic. Land a set of Scatters and unlock up to 10 free spins with wins multiplied 10x. In the base game, you will be able to gamble any regular payout on red or black for a chance to receive 2x or 4x the initial win.
The game is already live in all brands with 7Mojos portfolio. Check it out along with the latest welcome and ongoing bonuses, including free spins.
Our Take
Today's selection has all sorts of adventures, from inspiring to spooky, with newly created characters, as well as a set of iconic personages that keep coming back to the slots.
Depending on your betting strategy, you might enjoy different titles. For instance, if you are a true low roller, play under no budget pressure along with the Popeye, his lovely Olive Oil, and the nemesis Bluto on the reels of the Popeye Slot. The spin here will not cost you more than 2.50 credits.
If you are all in for the high stakes, you can enjoy the wager up to 240 credits per spin on the reels of the Forest Hunter, an unusual interpretation of the 3 Musketeers coming out of Inteplay's pipeline. High stakes may bring in the advertised win up to 5,000x the bet.
If you are into match models, we can urge high RTP on the reels of Troll K.O. where it reaches up to 97%. The advertised RTP numbers can even go beyond 97% on the reels of Sadie Swift: Guns'n Glyphs by Kalamba.
If you pay more attention to maximum payouts, then definitely check out Pirate Gold Deluxe by Pragmatic Play for a chance to win either of the game's 3 jackpots. BountyPop by AvatarUx, although not listed as a progressive release, also has juicy wins. These reach up to 55,000x the stake. Who knows, maybe this is where your luck is waiting for you?
For a simple reel-spinning action with low risks and RTP, check out Super Creeps by WorldMatch. Another low-RTP game, Underwater Adventure from 7Mojos sweetens the math model with high volatility, so maybe, start exploring from its reels first.