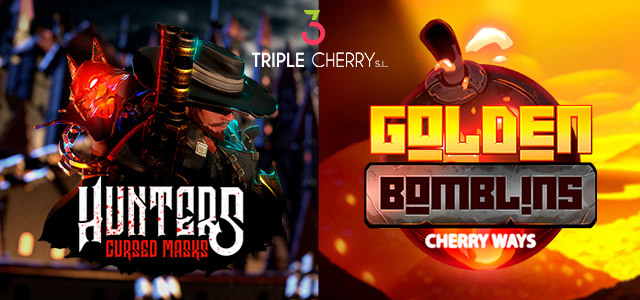 Triple Cherry Presents 2 New Slots with Exciting Gameplay and Unique Bonuses
A popular Valencia-based software company, Triple Cherry, has recently extended its portfolio with two exciting new slots. Unlike many previous releases by this studio, the new games engage players with a unique mechanic, thrilling bonuses, and bright stories supported by great visuals. Let's explore those two releases in more detail to find out if and why they are worth playing!
GOLDEN BOMBLINS
Golden Bomblins is a thrilling fantasy-themed release with elements of fantasy and a robotic world that invites players to dig for gold in the company of evil goblins. Those evil creatures from many popular tales oversee everything in this release, and they are the ones to control your winning combinations.
Same as you, they are driven by the lust to find the gold on five reels with seven symbol rows. Although it may seem challenging, an innovative mechanic and various special features make this quest very exciting, and what is even more important, rewarding.
The mechanic is based on cascades, so the number of paylines is not fixed, and it can be as high as 16,807. Keep an eye on golden bombs and golden keys as they are the most important symbols in Golden Bomblins. Whenever a bomb explodes near the key, it is collected. Keys are crucial, as they help you to open treasure chests.
Whenever you manage to collect all keys, the climax of this adventure takes place, and the free spins round begins. The number of rotations is unlimited, so the feature continues until there are reels that are not blocked. How do reels get blocked? Whenever a bomb lands on a reel and explodes, this reel becomes blocked.
So, is the game worth the candle? The maximum reward that you can scoop in this game is 775x the total bet, so it is up to you to decide whether to give it a try.
HUNTERS: CURSED MASK
Another epic adventure that takes place in a fantasy world unfolds on the reels of Hunters: Cursed Mask. This release allows players to work side-by-side with a fearless monster hunter. This time, he is ready to clash with the bosses of the monsters to win their masks and find a big treasure.
However, the hunter cannot do all this alone, and he needs your help on a 5x5 grid with 35 paylines. Use the Mirror of Destiny to make separate symbols give you cash payouts and initiate the free spins round by collecting Scatters in view. Free spins round is the key to everything in this game, as it allows the hunter to defeat one of the bosses and take its mask.
The most fortunate players can finish this quest with the grand prize of over 9,000x the stake.
On top of that, make sure to try new summer slots by Onlyplay