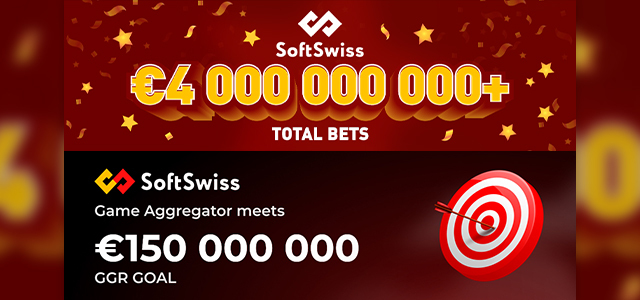 SoftSwiss Reaches Two Significant Milestones in March 2021
#PlayOfTitans #GambleLike_LatinAmerica #GambleLike_Asia
The past few months have been fruitful and successful for SoftSwiss. The company is a game aggregator that has always been popular with players and software providers around the globe, and recently celebrated two important milestones.
4 BILLION EURO TOTAL BETS
Expansion to new markets and transformation in Game Aggregator has already had visible results! Softswiss has entered new countries and introduced a more engaging and targeted approach to game selection. Thus, its clients received an enhanced gaming experience in many regions, including LatAm and Asia.
These changes allowed the platform to reach €4,000,000,000 total bets in March. It is an impressive milestone for the company especially considering that 1 billion euro total bets have been collected for three months only. In December 2020, SoftSwiss claimed to have 3 billion euro bets.
Tatyana Kaminskaya, Game Aggregator Team Lead at SoftSwiss commented on the achievement:"Since October 2020, the Game Aggregator has reached several exciting milestones such as surpassing 100 million euros GGR, as well as the number of bets going over 3 billion euros and now reaching astonishing the 4 billion."
About the Game Aggregator
SoftSwiss offers a popular and convenient platform that consolidates 11,000+ games by over 70 software providers. Games are available in a wide range of currencies. Alternative ways of depositing are also accepted. In fact, this Game Aggregator has more than 3,000 releases that can be played in cryptocurrencies.
€150 MILLION GGR
It took the company only several months to meet another exciting goal. This time SoftSwiss can boast an impressive Gross Gaming Revenue that has increased by €50 Million in less than half a year.
Thus, the company now boasts €150 million GGR. The activities done in LatAm and Asia do not only contribute to the achievement mentioned above, but they influence such a rapid increase in GGR as well.
Softswiss does not stop on the reached goals and get ready to break their records in the future. In addition to the expression of excitement about the reached milestones, Tatyana Kaminskaya said that they are determined to keep bolstering positions of SoftSwiss in the markets by "continuously increasing its capacity, expanding the game provider network, and continuing delivering our clients a superb level of service."

You might be interested in the latest record set by Microgaming, one of the most popular software providers in terms of progressive jackpot network.