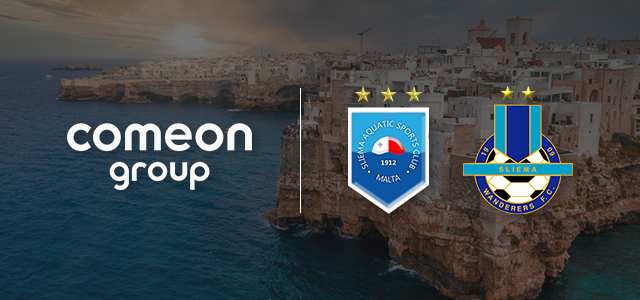 ComeOn Will Sponsor Sliema Aquatic Sports Club and Sliema Wanderers FC Again!
ComeOn Group has recently announced that it continues sponsorship of two Malta-based sports clubs called Sliema Aquatic Sports Club and Silena Wanderers FC. Those agreements are part of the group's commitment to support localities in Malta, the country where the ComeOn group's headquarters are located.
This sponsor partnership was launched last year with a video featuring two sports clubs showing how a sense of community is fostered through sports activities.. With the renewal of the partnership for one more year, Sliema Aquatic Sports Club and Silena Wanderers FC will once again have access to excellent projects that should bring benefits to the local community.
Commenting on the renewal, Chief Operating Officer at ComeOn Group Daniela Vella said that Sliema was very close to their first offices, so the company still feels that tie with this location even after moving their offices to the waterfront. She also added that both teams share their company's values and projects implemented together with sports clubs should have a good influence on the local community, especially Run Together The Group one.
Another reason why ComeOn seems to have decided to sponsor those two teams is that it believes that sports are crucial for nurturing teamwork and fostering leadership skills, which are key pillars of its CSR strategy.
WHAT IS CSR STRATEGY FOR COMEON?
ComeOn Group has been on the island for more than 13 years already, and it has more than 560 employees all around the world. 250 of them live in Malta, so investing in projects that bring value to local communities is another way to focus on the well-being of their employees.
For this purpose, ComeOn has also introduced an extensive Employee Assistance Program, which provides assistance to their employees when they go through hard times. EAP is a part of CS strategy, which is built around mental health and well-being. Moreover, ComeOn provides its employees with a well-being allowance aimed at physical activities. Therefore, continuation of sponsorship of two sports clubs in Sliema is another aspect of the successful fulfillment of the company's CSR strategy.
ABOUT COMEON
ComeOn Group is a reputable group of online casinos that has been in the gambling industry for over 12 years already and unites more than 15 brands with innovative features and flexibility that contribute to the exciting gaming experience of many players. Some of the well-known brands that belong to ComeOn group are ComeOn Casino, Hajper, Snabbare, and Sunmaker.