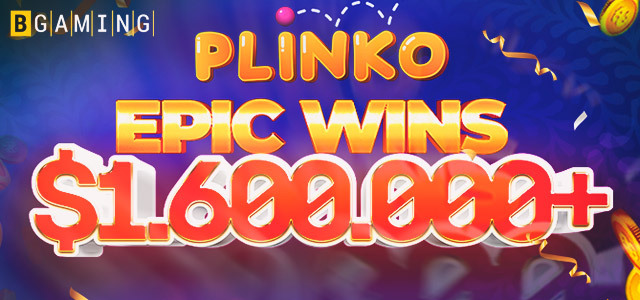 BGaming Makes a New Millionaire with Sensational $1,600.000+ Drop
BGaming is known for its games that bestow whopping jackpots on players, and the Plinko release has joined the list of such games just recently. Making history with a series of big wins totaling at more than $1.6 million, this release has also created one of the luckiest moments in the life of one fortunate player who is not afraid to take risks.
This is not a tale of an abrupt win that changes life in a few seconds due to a series of coincidences and just several bets. It is rather a story in which patience brings its fruits and a desire to risk is rewarded. It is still a rare situation, as luck smiles at the bravest, and it seems to be very picky at times.
A player of the Gamdom Casino has decided to play the Plinko game. This release by BGaming has straightforward rules and a good RTP. All a player needs to do is to choose the size of the bet, press the "Play" button, and watch a ball fall from the top of the pyramid defining the multiplier of the total bet.
The hero of this story has made a risky and surprising decision to play at a maximum bet of $1,000. The game was played in high-risk mode and with 16 lines. It took a player 2500 balls to walk home with a game-changing win of $1,600,000+. As you can assume, there were plenty of ups and downs, so a player experienced big losses that were later changed with satisfying wins of $26,000 and $130,000. The climax happened when a single ball reached the destination and bestowed a sensational $1,000,000 payout on a player that showed a lot of patience. In total, a fortunate customer of Gamdon managed to win $1,600,000+ that evening.
What is Plinko?
Plinko is an exciting interpretation of the game that was invented by Bob Barker in 1983. It was a part of the 'price is right' family. Currently, there is a wide range of variants of this entertainment, and the gambling release by BGaming is just one of them.
At the same time, a legendary Mega Moolah slot by Microgaming continues to make history even many years after its launch. This thrilling game dropped a massive €7,296,286.88 at the beginning of February. A lucky player who scooped this jackpot became the 70th millionaire created by this release based on an African safari.