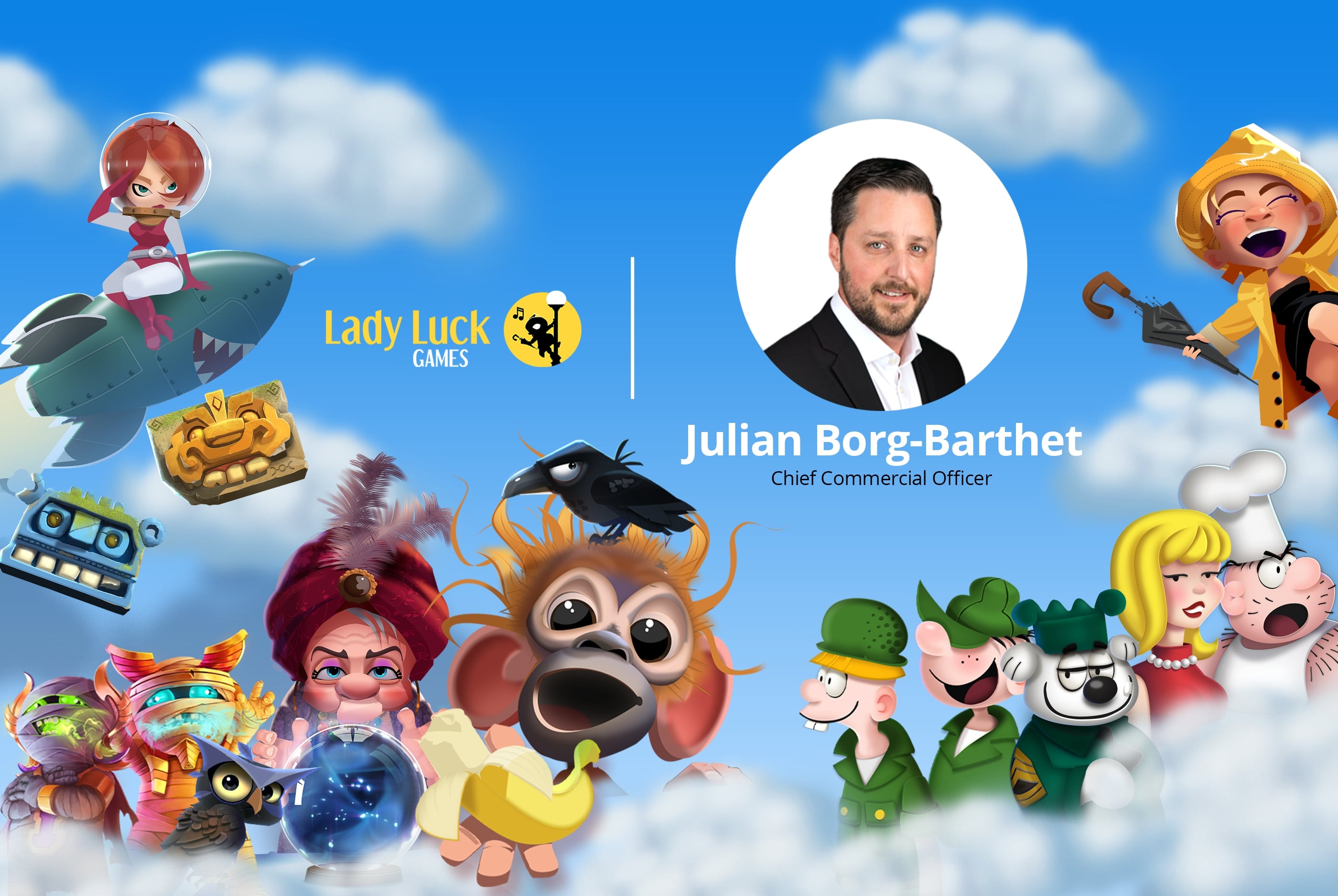 "We're always looking for new ways to push the boundaries of what's possible in iGaming."
In a candid conversation with KeyToCasinos, Julian Borg-Barthet, Chief Commercial Officer at Lady Luck Games, explained the company's philosophy, the significance of player feedback, and the creative spark that fuels their successful portfolio. He also offered insights into the trending Popeye slot and dropped intriguing hints about the company's future plans. This enlightening read is a must for anyone seeking to familiarize themselves with Lady Luck Games or delve deeper into the workings of the studio behind such popular games as Madame Clues and Astro Anna.
Thank you for accepting our interview invitation! It is a pleasure to get acquainted with the passionate team behind Lady Luck Games that managed to achieve so many milestones within only 4 years in such a highly competitive industry. What keeps you driven?
Thank you for having me. It's been an exciting journey so far, and we're grateful for all the support we've received. As a team, we're driven by our passion for creating innovative and entertaining games that players will love. We're always looking for new ways to push the boundaries of what's possible in iGaming and bring fresh experiences to our audience. The satisfaction of seeing our games come to life and bring joy to players is what keeps us going.
Portfolios of many game developers are quite repetitive, but not yours. Games by Lady Luck fall under diverse themes and practically all of them have a unique touch either in storyline or gameplay. Can you share with us how you come up with original ideas and how you convert them into such popular games?
Sure, creativity is at the heart of everything we do at Lady Luck Games. We believe that the key to standing out in this industry is by offering something fresh and exciting to players, and that starts with original ideas. Our team is made up of individuals from a variety of backgrounds, and we encourage everyone to contribute their ideas and bring their unique perspectives to the table. We also keep a close eye on industry trends and player feedback to help inform our decisions.
Once we have an idea that we're excited about, we begin the process of developing it into a game. Our team of designers, developers, and artists work together to create a cohesive vision for the game, taking into consideration things like gameplay mechanics, visuals, and sound design. We also conduct extensive playtesting to ensure that the game is not only fun, but also fair and balanced.
Overall, our approach is to prioritize originality and quality in everything we do. We believe that by staying true to these values, we can continue to create games that stand out in the crowded iGaming market and resonate with players around the world.
Your recent Popeye slot seems to be a major hit with players. What is the key to its popularity? The theme, the mechanic, or something else?
I think there are several factors that contribute to the popularity of our Popeye slot. First and foremost, Popeye is a beloved and iconic character that has been entertaining audiences for generations. By bringing Popeye and his friends into a slot game, we were able to tap into that nostalgia and create a sense of familiarity and excitement for players.
In terms of gameplay, we also incorporated some unique mechanics that add to the thrill and excitement of playing.
Ultimately, I think it's a combination of these factors, along with the high-quality graphics and game design that make our Popeye slot so appealing to players. We're thrilled to see how well it has been received and we're looking forward to creating even more exciting games in the future.
Would you mind teasing us about upcoming releases that we might try in the second half of 2023?
We have some exciting releases planned for the second half of 2023 that we can't reveal too much about just yet. But what I can say is that we're exploring some unique themes and mechanics that we think players will love, and we're continuing to refine and improve upon our existing game formulas.
For example, you can keep your eyes peeled for Lady Luck's Gold Quest, featuring our company's mascot – Lady Luck herself. It will be a thrilling adventure-themed slot game that takes players on a journey through ancient ruins in search of hidden treasures. The game features a unique 6-reel layout with an unconventional symbol layout and offers all-ways winning combinations.
Players will join Lady Luck on an exciting quest, solve cryptic clues and unlock special features to uncover valuable rewards. Keep an eye out for more information on this exciting release!
In December 2022, Lady Luck announced an agreement with Microgame for the Italian market. How are your games accepted by Italian players so far? Do you have any new partnerships in this market?
Lady Luck has been working on expanding our reach to different markets, and we recently announced a partnership agreement with Microgame for the Italian market. While we have not yet launched in Italy, we are excited about the opportunity to introduce our games to Italian players and provide them with a unique and entertaining gaming experience. We are always exploring new partnership opportunities to expand our presence in different markets, so stay tuned for more updates in the future.
Could you please share your plans for further expansion to new markets? Let's allow players from those countries to be in anticipation of exploring Lady Luck's portfolio.
Lady Luck Games is always looking for new opportunities to expand our business and reach new markets. We're constantly exploring potential partnerships and collaborations with operators and distributors around the world to make our games more widely available to players. As we continue to grow and evolve as a company, we're always looking for new ways to bring our unique brand of gaming entertainment to audiences around the globe. We're excited to see what the future holds and to continue providing players with innovative and engaging gaming experiences.
Last but not least, LL Games has recently launched StormRGS, a gaming platform that gives access to your releases to over 500 operators. Could you tell us a bit more about this project and the motivation behind it?
StormRGS, which we acquired through the acquisition of ReelNRG, is our advanced gaming platform that allows us to distribute our games to a vast network of operators. The platform is designed to deliver an unparalleled gaming experience to players worldwide, and we are thrilled to have re-launched it. By utilizing StormRGS, we can reach even more players and expand our global reach, making our games available to as many players as possible.
Our StormRGS platform offers versatility and flexibility when it comes to integrating with various platforms and operators. This allows us to provide players with a seamless and enjoyable gaming experience. By integrating with operator's bonus and tournament tools directly or seamlessly with the platform's own tools, we can offer our players more ways to engage with our games. We believe that the platform's flexibility is a significant advantage, as it allows us to expand our reach and offer our games to even more players around the world.