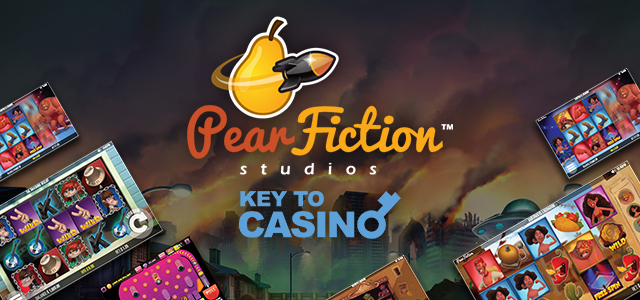 «We have a great team of "PearFectionists" with big ideas»
Meet the People Behind the Innovative and Ambitious Canadian Game Developing Brand
In his conversation with us, Thierry Semoff, the CEO of the PearFiction Studios, eagerly shares his vision of a better players' experience, talks about the challenges the new studio meets on its way to innovating the world of gaming, and reveals exciting production plans for the year 2018.
Thierry, great to have you as a guest at KeyToCasino today! Tell us more about yourself. Have you always been interested in game development? What led you to the idea of the PearFiction Studios?
For as long as I can remember, yes I have always been interested in game development! I spent most of my career developing eLearning courses for the Pharmaceutical Industry. We applied a lot of game principles in our educational programs, but we never had the chance to develop full-blown games. It's not until PearFiction Studios was founded back in 2014 that I was able to do true game design. We are a team of perfectionists, hence the word-play and name of the studio.
At PearFiction, I had the opportunity to publish around a dozen small to mid-sized casual games and entertain over 5 million players during our first two years of operation.
I'm a tenured gambler, I love to play slots and table games at our local land-based casino. However, playing online slots came later for me.
Please introduce us to the people behind the brand. How many of you work on creating the content, and what is the atmosphere like within the team?
Our small team of eight consists of illustrators, game designers, developers, mathematicians, and motion designers. We love games, we love making them, we love to play them, and we love to innovate them – we have a great team of "PearFectionists" with big ideas. Every member of our team is a key player at PearFiction Studios, and everyone has a say in the design and games we develop.
PearFiction originally started as a developer of casual games for mobile phones, and it took you what you call "a leap of faith" to switch to production of slots where real money can be wagered. What made you take this leap, were there risks, and did it require major changes to the production process?
In 2015, we released PowerUp Slots™, our first stab at improving the social slot machine experience. The game reached the #5 spot in the casino category of the US iTunes store on December 26th. Despite the success of our PowerUp Slots™ launch and its novel gameplay, we struggled to keep the game in the top ranks of the games category. Without substantial funds to sustain a proper marketing and user acquisition effort, the game was soon out of the money-making rank positions. It's easy to develop mobile games, but real hard to achieve financial success.
"It's easy to develop mobile games, but real hard to achieve financial success."
That launch streamlined our understanding of player's behavior, demographics, and successful monetization strategies. We also noticed that some players were using social games to practice their skills before playing the real money version.
This led us to that leap of faith and to switch our focus from mobile games to real money games in the summer of 2016. It was not an easy shift, despite sharing similar gameplay, social and real money slots are totally different. It was a complete reset for the studio, from the tools and technologies we used, to understanding the audience behavior and real money slots mechanics.
This shift also required us to change our business model from a B2C to a B2B landscape. From selling and marketing games directly to players, to licensing and developing games for platforms, aggregators, and operators.
How would you describe the business you switched to? Is it easy to find your way to the top, start seeing a profit, find and work with the customers?
It's not easy! "Do something else" said one of our consultants when we were planning our switch to real money games. He was right! The barrier to entry is quite high. You need tenured gameplay and math design skills, impeccable graphic skills, and a rock-solid development team to create a state-of-the-art game framework if you want to have any chance to succeed in this industry.
"Do something else" said one of our consultants when we were planning our switch to real money games. He was right!
We showed up at ICE in 2017 with a bunch of ideas on paper. Almost carried puppets and a cardboard stage to present the "potential" gameplay of our concepts. We learned a lot at our first ICE show and managed to sign our games with the biggest names in the industry.
We were lucky to meet and work with some incredible people from the start. We wouldn't be here if it wasn't for them.
What is your target market right now, and are you planning to expand to new audiences any time soon?
The European market is our prime market. With more gamey concepts such as face to face wrestling matches and alien battles, we are targeting the younger gamers. We plan to build games they will love to play again and again.
How many games are there currently in your portfolio, and do you have a monthly/yearly production plan?
We are in certification with our first game Gustavo El Luchador. We also have four additional games at different stages of development. Outerspace Invaders and The Smashing Biscuit will be live in May, followed with Pugs and Fish and Chips in June and July. As for our development capacity, we should have eight games live by the end of the year. We are also constantly recruiting and hope to double our capacity by the first quarter of 2019. Our goal would be to develop 12 high-end quality games per year, while trying to keep a lean development team.
Which of the produced games is your personal favorite?
I would say that Gustavo El Luchador is amongst the favorites. On my side, I love Outerspace Invaders. Love the free spins game and seeing Rachel fight Zerk to save her fiancé! Great payout as well!
"We are "PearFectionists", but also innovators. If the occasion presents itself, we would also like to develop non-slot games."
Is there a long-term development plan for the company, and if so, could you share at least a couple of dreams you would like to accomplish within the PearFiction Studio?
We hope our games will be successful and allow us to design great games for the next 20 years! We truly love what we do, and we hope we can continue to exceed our players and customers' expectations for many years to come.
We are "PearFectionists", but also innovators. If the occasion presents itself, we would also like to develop non-slot games. There is so much more to gambling than slots, but it's what players play and like at the moment. Someone will eventually take some risk and design the next wagering successful game mechanics that everyone will want to follow. Hopefully we can be part of it!